The parent's handbook from my daughter's school specifically says that all of the student's belonging should be labeled, from the cubbies to the lunch bags, to the clothes that will be left in the cubbies, to everything!  Being the obedient parent that I am, I did just that.  But not without lots of help from my trusty DYMO Labelmakers!
Abby's food containers of various sizes all have her name on them.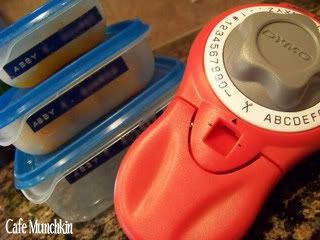 Abby's lunch bag also has her name on it.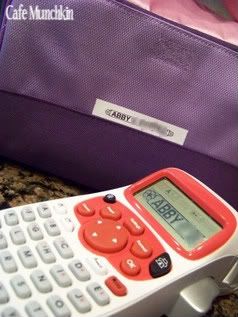 During lunch time at Abby's school, it's so easy for everyone's belonging to get all mixed up.    Anything I could put a label on, I labeled!  Abby's placemat has a special label on it, and so do each and every piece of clothing in her cubby: extra shirt, socks, undies and shorts.
If not for the labels on Abby's dance paraphernalia, like her ballet and tap shoes, another girl could have easily picked up Abby's things.  This has happened to other girls in Abby's dance class so many times already.  Shoes, tights and leotards getting into the wrong girl's dance bag.  But not my Abby!  Hee hee. ;)
Call me obsessive compulsive or a control freak, but with the price of things nowadays, we can't afford to lose anything!  Besides, I have a lot of fun labeling.