Is there a particular brand of luxury watch you're daydreaming (night dreaming, too!) about?  One that you hope would land on your wrist some day?…some day soon, hopefully?! Rolex, Cartier, Omega, Movado, Breitling, anything from their lot at all?
I'd be lying if I said no, I don't want any of those.  To be honest, a teeny weeny part of me would like to be the proud owner of a gorgeous time piece some day.    It would be cool if Hubby and I had a pair of his and hers Omega watches. But with so many expenses to worry about take care of – rent, car payment, tuition, utilities, groceries, etc. – I can hold off on that watch for a wee bit longer.  We all know how outrageously expensive these things are.  Take this Omega Speedmaster Broad Arrow men's watch…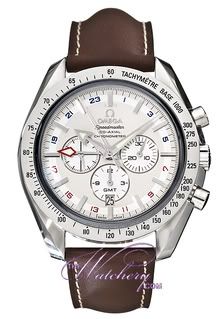 The list price for this watch is, hold your breath, $6,650.  Whew!  Did you just have a heart attack?  Hee hee.  But you have to admit that it's really gorgeous, with 150 years of brand reputation for  innovation and quality to back it up.  I have a little tip for you Omega fans though.  You can get genuine Omega watches at a discounted price at TheWatchery.Com.  You can get the watch in the photo for $4,295.  That's 35% off!  If you have thousands of dollars to spare, why not give yourself an advance Christmas present?
As for me, I'll have to wait for tonight's Mega Millions draw first.  Hee hee! ;)