As I mentioned in this entry, I am now on a mission to make Abby's lunches more fun, creative and at the same time still be healthy and nutritious.  Inspired by the gorgeous bento lunches of KitchenCow and LunchInaBox, I would like to join the good number of people out there who has made making bento lunches their passion.  I would like for it to be my passion, too.  I'm crossing my fingers on that. :D
Abby, my 4-year old daughter, is the only one I'll be packing lunches for.  She eats her lunch in school.  I've already mentioned a couple of times that she's fond of having Asian treats for lunch, like siomai and dumplings.  Every single day, she tells me she wants siomai for lunch.  I do try to vary her lunches.  I honestly do.  She can easily devour 10pcs. of siomai, wiping her lunch containers clean.  If it's anything else, I've learned not to expect to get back an empty lunch container.
This morning, I made Abby one of her earlier lunch favorites…cuapao.  For a Western twist, the filling I used are slices of honey ham.  I summoned my creative juices to give her lunch a touch of fun…
It wasn't my intention to have a frowning Hello Kity.  I guess I pressed a little too hard on the bun with the tongs. :D  Abby had mixed vegetables for her side dish and for dessert, banana and peaches drained of the light syrup.
Later on, I decided to take out the two smaller containers because I had to fit another cuapao into the food container…
As you can see, I am very much still a work in progress. :)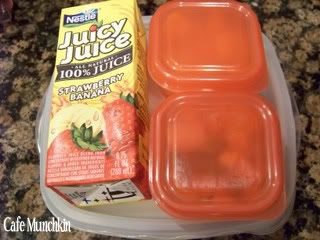 As always, Abby has a 100% fruit juice for her beverage.
In the coming days, I hope to introduce Abby to lunches other than her beloved siomai.  Wish me luck! :D