We are often guilty of judging a food by the way it looks.  In a buffet set-up, we are drawn to food that look good and are presented attractively.  Often, color has a lot to do with our choice.  We like shrimps that are bright orange, carved meat that have a hint of pink, and flan that is golden in its richness.  That's why it is such a let-down when food doesn't taste quite as "beautifully" as it looks.
Here are my colorful food pics for this week's Lasang Pinoy Sundays:
My niece, Macy, had a Masquerade Ball themed 7th birthday party two years ago.  This is her vividly colorful cake…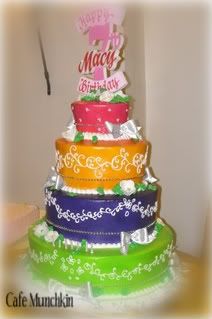 *whistles*  It's almost prettier than my wedding cake!  Hee hee.
This is the glazed ham from Abby's 1st birthday party…
It's almost a sin to slice it!
Aren't they pretty?  I say pretty enough for picture frames!  Believe me when I say that they taste as good as they look.  Promise. :D