It was my sister-in-law who introduced me to Nutella some time in the late 90s.  It's a hazelnut spread with skim milk and cocoa.  And mind you, it is by Ferrero, one of the finest names in the chocolate universe. My nieces and nephew as well as my daughter are all nuts over Nutella, and so are we parents!  It actually takes a lot of will power to not just sit on one corner with a jar of Nutella on one hand and a spoon on the other.
One way we enjoy Nutella, other than with a piece of toast and, uhm, straight out of the jar, is with bananas.  Oh you read it right!  I'm quite sure some of you will find this combo a tad crazy.  It does make me go bananas and nuts, too!  Crazy I tell you.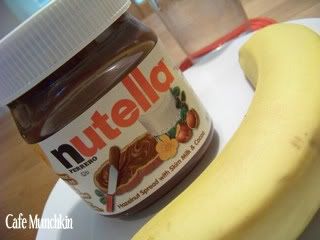 It's a fool proof way to get Hubby to eat fruit.  Compromise is the key!  Hee hee.  It's perfect for dessert or as a snack.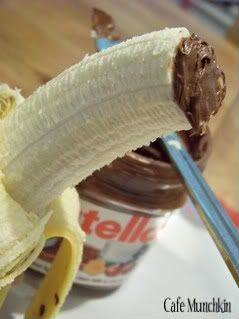 Alternatively, Hubby sometimes does a peanut butter and banana combo.  But not this blogger!  Chocolate trumps peanut butter anytime!
Do you have a favorite food combo which others might find weird?  Please do share.  I won't judge you.  Promise!