We were under house arrest yesterday because of the threat of Hurricane Ike, which, thankfully, didn't make it's presence felt in this side of Texas.  For lack of things to do, I gave in to Abby's request that we make S'mores.  At 4 years old, she's already had prior experience making this dessert in school.  This is a very simple, not to mention sinful, dessert or snack that kids can make on their own, with little assistance (mostly microwave operation) from mommy .  For the first S'mores, Abby and I simply followed the recipe found at the back of the Hershey's Milk Chocolate 6-pack.  We altered the amounts/measurements in the recipe afterwards because it came out overly gooey.  The photos found here are of the altered measurements.
Chocolate Lover's S'mores
2 graham crackers broken in half (Note:  4 rectangular pieces make up 1 whole piece of the Honey Maid brand of graham crackers.  This is the kind that you break in half.  Other brands are made up of only 2 rectangular pieces, making a square.  In this is the case, there's no more need to break it in half.)
1 Hershey's Special Dark Chocolate bar broken in half (Note:  By all means, feel free to use your chocolate bar of choice!)
2 large marshmallows
Note:  We only used a quarter of the Hershey's Bar and 1 large marshmallow.  But if you like a choco-mallow, sugar and calorie overload, follow the original recipe! ;)
Procedure:
Place 1 graham cracker half on a microwave-safe plate.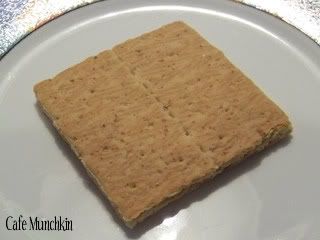 Break chocolate bar into quarters (half in the original recipe) and place one section on cracker. Microwave at Medium (50%) for 10 seconds.
Top with marshmallow (2 in the original recipe).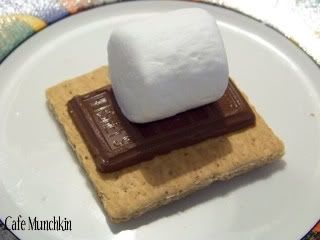 Continue heating at MEDIUM in 10 second intervals until marshmallow puffs. (Total of 15 seconds should be good enough!)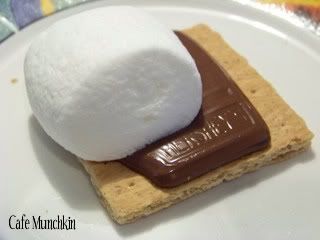 Immediately top with remaining graham cracker half; gently press together.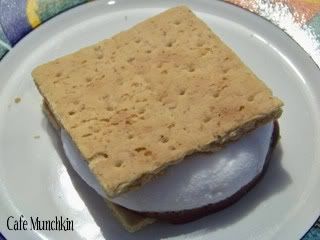 Let stand 1 minute to soften chocolate.  Repeat for each serving.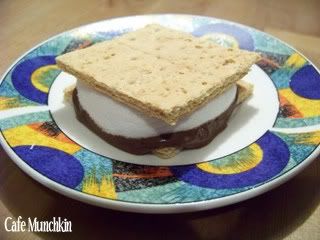 Ooey gooey chocolatey and marshmallowy goodness! :)
Total calories: 295 if using original recipe; 217.5 if using only 1 marshmallow and 1/4 of the chocolate bar
Here are some more S'mores, my other WS entry.
Have a great new week ahead! :)