Those are the exact words on the box of treats we got straight from Japan.  I always get excited whenever we get goodies, and I mean food goodies, from the Land of the Rising Sun.  For one, they are packaged ever so nicely.  Second and most importantly, they taste really good.  My last entry about Japanese treat was Japanese Nut Squares.  Boy were those not squares soooo good.
Anyway, back to the Premium Excellent Chocolat.  Here's the box…
Here are the silver treasures that lay so neatly inside.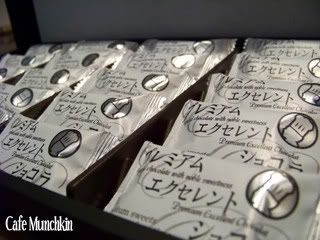 These words printed on the silver foil got me excited and raised my expectations to Everest proportions: "special chocolate with noble sweetness".  I tried to keep my heart from beating too fast and lifted one silver package and opened it.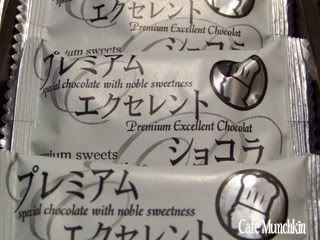 So I took the treat out of the foil.  I was surprised to find a cookie!  But…but…the box said "Premium Excellent Chocolat"!  Where's the chocolat?!!!!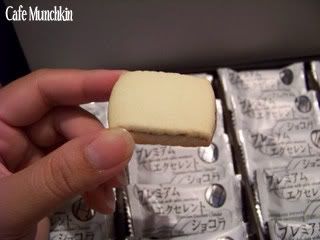 This has got to be a joke, I thought to myself.  That very thin line of brown was all the chocolate there was.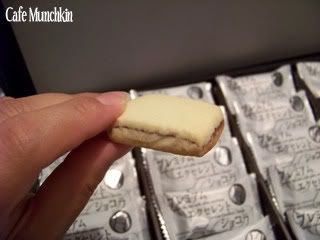 I took a bite.  Naturally, I could barely taste the chocolate.  What a let down!  The cookie turned crumbly and powdery in my mouth after I took a bite.  So not what I expected.  My Pepperidge Farm Milano cookies are way more excellently premium than these!  Or are my tastebuds just too used to sweetness of diabetic proportions?  I say no.  Hubby and I felt we were tricked.  Oh well.  Let me just bury my sorrows in a jar of Nutella.  Kidding.  If it's any consolation, the cookie grows on you.  Hee hee.