Whenever we have guests from out-of-town, there's one BBQ place we are sure to take them to, Countyline BBQ.  I've already posted entries about our binges at Countyline before.  Hubby and I enjoy seeing the surprised reactions of our guests when the food arrives.  That happens every single time!  Hee hee.
Last Sunday, we invited Hubby's friend from college to dinner at Countyline.  He's in Austin for a couple of days.  We ordered our favorites, BBQ Beef Ribs and Baby Back Ribs.  I keep huge they are.  Even I am overwhelmed every time!
If I'm not mistaken, this is called the Big Daddy.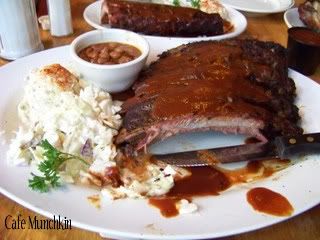 Beef ribs with three ribs already missing
And this is the Half Rack Baby Back Ribs…
Now that's finger lickin's good, ei?!  The beef ribs and baby back ribs both came with a side of mashed potato, coleslaw and beans.  Yum!