Abby received the most adorable "lunchmates" as presents last week.  She now has a new Hello Kitty food container, which she can use for her school lunches…
…and the cutest pair of chopsticks.
The food container is a little small, but I like that I can play with it and remove one or both dividers if necessary.
That's exactly what I did last Friday.  I took out the dividers so I can fit 10 pcs. of siomai in the container.  Notice the green attachment on the chopsticks?  It helps make the chopsticks more kid friendly.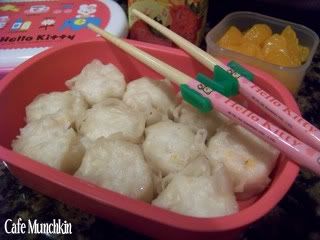 I have another Wordless Wednesday entry HERE.  Visit Wordless Wednesday participants here.
Happy Wednesday!