During weekends, I am almost always under a lazy spell.  I often joke about our home kitchen being closed on weekends.  Hee hee.  *wink*  Often, we have dinner out on Saturdays and lunch out on Sundays.  But coming home from a full day spent outside the home on Sundays, it's just extremely difficult for me to whip something up for dinner.  And so, instead of a CIY meal (i.e. Cook-It-Yourself) we opt for the next best thing, a BIY (But-It-Yourself) meal/dish.  Our favorite?  H-E-B's Roasted Rotisserie Chicken.
H-E-B, I could safely say, is Texas' state supermarket.  And while other supermarkets (Target, Walmart and Randall's) also have their storebrand rotisserie chicken, H-E-B's is tops on our list.  The chicken is always moist, well-seasoned and just plain delicious.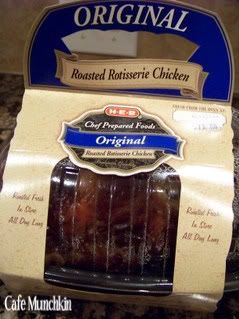 The rotisserie chicken is available as a pack of 4 leg quarters (about $5.00 per pack) or as a whole chicken (about $7.00).  It comes in Original, Honey Jalapeño, Lemon Pepper, Italian Herb or Honey Mesquite.  Our favorite is the Original.  We often eat it with rice or with tortillas.  Our dipping sauce of choice is every Filipino's favorite bottled sauce for roasted meat…Mang Tomas!  Hee hee.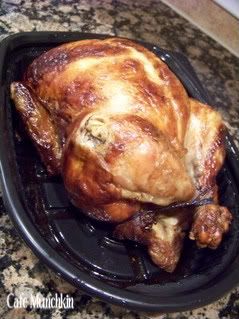 We just love chicken and roasted chicken is a better option to fried chicken.  Personally, I won't really mind having this every week.  But of course, I have an ulterior motive, that is, to avoid cooking on weekends. :D