Yes it is a toy.  Abby's!  It looks so ridiculously real, doesn't it?  It's a belated birthday gift from her Ninang (Godmother) Pinky and Tito (Uncle) Keith.  The Chinois kids, Abby's cousins, Luigi, Rafa and Marga, gave Abby the book "First Book of Sushi".

Abby and her belated birthday loots

Care for some sushi?
I love this toy bento box.  It's so child friendly.  The chopsticks and the sushi/maki pieces have velcro on them.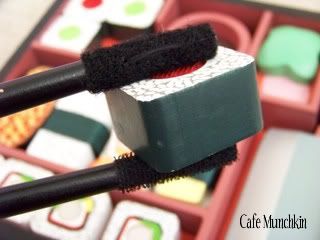 Look ma, one chopstick only!  Hahaha!
I didn't realize it was sooo easy to make a tamago sushi…
And check out the nori (sea weed)!
September is beginning to feel like Japanese culture appreciation month here at out home.  First, Abby got a Hello Kitty showcase (two weeks ago).  And now, these!  Hee hee.  I'm not complaining.
Take a look at Monster Truck Driver, my other WW entry.  Visit other WW participants here.
Happy Wednesday, y'all!