It's been a while since I had my hands on my favorite chocolate recipe book.  For one, I have my hands full.  Two, I kinda misplaced it and only realized it a few days ago.  But I can relax now as I finally found it yesterday.  I found it at the opportune time because we were running low on desserts.
I immediately flipped through the pages and looked for a simple recipe, keeping a mental checklist of the limited ingredients I currently have on stock in the pantry.  I found a simple no-bake dessert which takes about 30 minutes to make (and 2 hours to chill). :)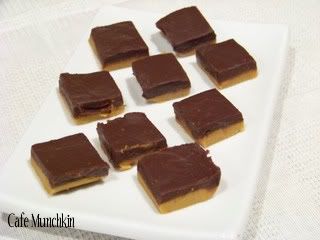 Creamy Double Decker Fudge
1 cup butterscotch chips (note: I substituted the peanut butter chips that was called for in the recipe with butterscoth chips.)
1 can (14 oz) sweetened condensed milk
1 teaspoon vanilla extract, divided
1 cup semi-sweet chocolate chips
1.  Line an 8-inch square pan with foil.
2.  Place butterscotch chips and 2/3 cup sweetened milk in small microwave-safe bowl.  Microwave at high (100%) for 1 to 1 1/2 minutes, stirring after 1 minute, until chips are melted and mixture is smooth when stirred.  Stir in 1/2 teaspoon vanilla; spread evenly into prepared pan.
3.  Place remaining sweetened condensed milk and chocolate chips in another small microwave-safe bowl; repeat above microwave procedure.  Stir in remaining 1/2 teaspoon vanilla; spread evenly over peanut butter layer.
4.  Cover; refrigerate until firm.  Remove from pan; place on cutting board.  Peal off foil.  Cut into square.  Store tightly covered in refrigerator.
Yield: 4 dozen pieces or 1 1/2 pounds.
Note:  For best results, do not double this recipe.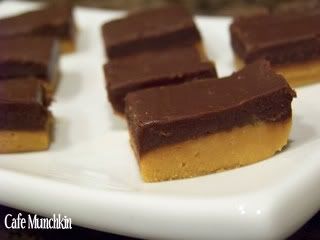 It's really very easy!  I'm thinking though, that I might prefer melting the chocolate with condensed milk in a double boiler instead, the next time I make these.  Oh, and by the way, these are very rich and creamy so, take it easy when as you enjoy them.  Hee hee.
Recipe Source:  Hershey's Classic Recipes