Last Wednesday, I boiled several chicken breast pieces, which I used for a pasta sauce.  That left me with a good amount of chicken broth which I would normally save and store in the freezer for future use.  Yesterday, I decided to use the broth to make chicken noodle soup for dinner.
As I was reading the cooking suggestions at the back of the package of vermicelli noodles, the word shabu-shabu seemed to have turned on a switch in my head.  Immediately, I made a mental list of the contents of my freezer, zeroing in on three particular ingredients: dumplings, prawn balls and immitation crab.  Perfect, we could have a simple Hot Pot dinner at home. ;)  Why oh why haven't I thought of that before?!!
I went to work right away and sauted several cloves of garlic and onions in a pot.  After about a minute of sauteing, I poured the chicken broth in, seasoning it well with salt and pepper.  As soon as it started boiling, I dropped in the dumplings, prawn balls and immitation crab meat.  All this time, my vermicelli noodles were soaking in cold water (15 minutes of soaking as per the instruction on the package).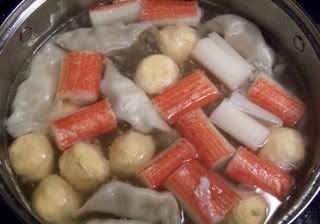 When all the ingredients I dumped in the pot floated to the surface of the boiling broth, I dropped in the noodles and turned off the fire after a minute or so.  Dinner was ready!  Quick, easy and yummy!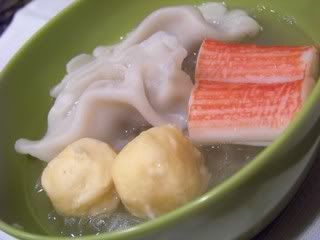 Abby loved it, and Hubby did, too (like he had a choice!).  Abby had fun during dinner because she got to use chopsticks (with kiddie attachment) to pick out the prawn balls and crab.  I, on the other hand, can't be an impartial judge of our meal.  First, I've always loved noodle soup.  It's one of my favorite comfort foods.  Second, I cooked it!  Hee hee.
I honestly think it's always best to use real chicken broth for soup or whatever recipe calls for chicken broth.  It just tastes so much better than if one were to use bouillon cubes.  I haven't used canned broth yet ever so I can't say if it's any good.
On our next grocery shopping trip, I'll be getting more hot pot ingredients and make sure to include veggies, which we have ran out of.  Hee hee.  And next time, I hope to make shabu-shabu from home.  I'll have to do a little research on the different shabu-shabu sauces first.