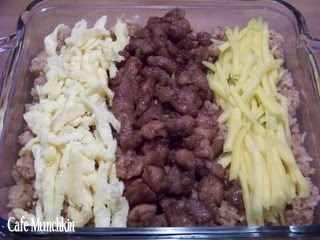 I can't even recall the last time I had Bagoong (Shrimp Paste) Fried Rice!  When we had lunch at a Thai restaurant several weeks ago, I was hell bent on ordering it.  Unfortunately, they didn't have it (and never will!) because most customers (non-Asians obviously!) will find the smell offensive.  Hmp!
When I found the perfect green mangoes at the Asian Market some time last month, I took it as a cue to make my own Bagoong Fried Rice.  What I couldn't eat in a restaurant, I just cooked myself! Ha!
To  make, you'll need garlic, onion, ginger strips, pork slices (about 1/2 cup), shrimp paste, cooked rice, green mango strips and egg.
For some semblance of organization, I set to work on the toppings first:
First, I sliced the green mango into thin strips then set it aside.
Next, I cooked two eggs as an omelette, folding it into three, to resemble a crepe.  I sliced it into strips then set it aside.
After the eggs, I worked on the pork topping next.   I sauted a few cloves of garlic and some onion slices in hot oil then added the pork.  When the pork turned brown in color, I added a bit of shrimp paste and a sprinkling of sugar for a touch of sweetness.  From the pan, I transfered the pork to a small dish and set it aside.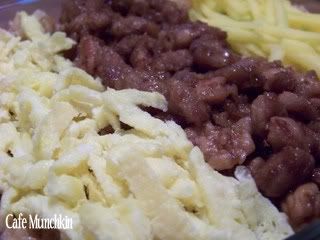 Next, the fried rice.  On the same pan where I cooked the pork, I again sauted some garlic and onions with the addition of ginger slices.  Then, I added about 3 tablespoons of shrimp paste and let it simmer for a minute or two.  Next, I added the rice and made sure to mix the contents of the pan well.  It's a good two minutes of mixing.  Hee hee.  When the rice was ready, I transferred it into a serving dish.
Time to bring out the prepared toppings!  With the rice sitting nicely on the serving dish, I arranged the egg, pork and mango slices on top of the rice in a neat row.  Voila!  My very own homemade Bagoong Fried Rice. *wink*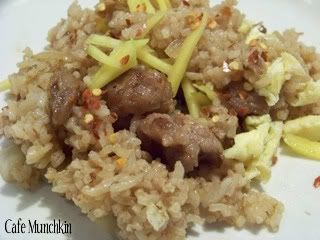 Hubby and I added some crushed pepper to our heaping servings of bagoong rice.  The contrast of the salty shrimp paste, the sweet pork and the sour mango just had us craving for more!  Yum!
To say that I was pleased with how this dish turned out is an understatement.  I even took separate photos with my camera phone just so I'll have copies in a  micro sd card as well.  Hee hee.
Enjoy the rest of the weekend! :)