My daughter has loved tapioca pearls from the very first time she tasted them.  So yesterday, I decided to finally make something out of the tapioca pearls I've been keeping in the pantry for several weeks already.
This is the semi-finished product.  It is good enough to be eaten as is.  But adding fruit bits gives it an extra umph.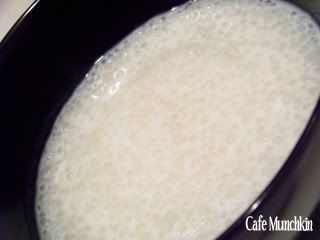 See what I mean?  Abby preferred the fruitless version.  Hubby, on the other hand, requested I top his with fruits.  Good thing there was one last cup of Del-Monte peaches in the fridge!  I also loved the added flavor diced fruits bring to this dessert.  It's a refreshing Thai dessert which I will nevertheless not mind having while vacationing in one of those Mykonos villa rentals.
This is very easy to make.  You just have to give an allowance for the chilling time.
Ingredients:
3 cups water
1 1/2 cups sugar
16 oz (1 pack) small tapioca pearls (1 mm in size)
1 1/2 cups whole milk
1 1/2 cups coconut milk
diced fruit of choice (mango, peach, cantaloupe, honeydew, etc.)
Bring the water and sugar to a boil in a medium sized pot.  Turn the heat to low, when the water starts to boil.  Stir in the milk.  When the mixture returns to a boil, turn off the heat.  Stir in the coconut milk.  Let cool at room temperature and chill in the fridge for at least 2 hours.
Soak the tapioca pearls in cold water for 20 minutes.  You'll notice that the pearls will expand, become sticky and turn bright white.  Drain.  Bring water to a boil in a medium pot than turn off the heat.  Add the drained tapioca pearls and stir continuously for 1 to 1 1/2 minutes.  Then drain at once using a fine mesh sieve.  Run cold water through the sieve to stop the tapioca pearls from cooking further. Combine the pearls with the coconut mixture and continue to chill in the fridge.
To serve, ladle the tapioca with coconut into a bowl and top with diced fruits.
oOo
The recipe I used as reference for this calls for 1 cup milk and 2 cups coconut milk.  But since I had only 1 can of coconut milk which was equivalent to 1 1/2 cups, I decided to increase the amount of milk.  The original recipe also calls for on 2/3 cups of tapioca pearls.  However, for us tapioca lovers, you could barely taste and feel the presence  of the tapioca in what was a more than generous amount of coconut cream.  So add or decrease the amount of tapioca pearls you will use according to your preference.
Have a great week ahead!
oOo
Bridalveil Falls is featured in my other Weekend Snapshot entry. :D