Two weekends ago, we had lunch at Romano's Macaroni Grill.  For the longest time, we've been hearing their radio advertisement of a regular-sized entree (which was supposed to be big enough for sharing) plus a personal-sized dessert (a size not really meant for sharing? hee hee!) for only $9.99.  Hubby and I thought we've had enough of the radio ad and decided to finally check out the Italian restaurant for the first time.
When we were handed our menus, the $9.99 promo was nowhere to be seen.  As luck would have it, we were a tad late.  However, the restaurant has a new ongoing lunch promo…the Roma Combo, where a diner can choose 2 (Roma Duo, $6.49) or 3 (Roma Trio, $8.49) items from a selection of Signature Soups, Fresh Salads, and Forno Favorites (entree which I think are personal-sized).
As always we had the customary bread while waiting for our orders.  The dip of olive oil and freshly coarse ground pepper wasn't as appealing as the usual combo of olive oil, balsamic vinegar and freshly grated cheese.  On our second helping of bread, we requested that cheese be added to the olive oil and pepper.  We thought that made the dip so much better.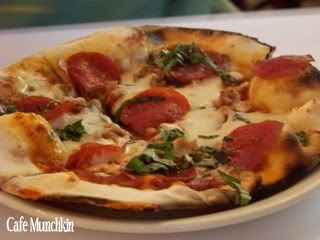 Hubby had a combo duo of Sicilian Mio pizza and Caesar Salad.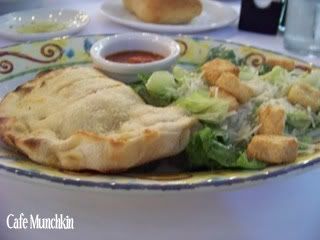 I, on the other hand, had the 4-Cheese & Roasted Tomato Calzone.
Hubby and I both agree that the food we ordered were not really spectacular, although they were good.  We love authentic Italian pizza.  One can really taste the difference between an Italian pizza and the more commercial ones. :)
I believe it was Abby who had the best meal though.  She had a good-sized Fettuccine Alfredo from the kid's menu.  It came with a scoop of ice cream for dessert.  Sorry, I wasn't able to take photos! :D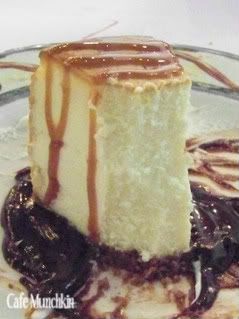 For dessert, we had the New York Cheesecake with Caramel Fudge  ($5.29) and we were glad we ordered it.  It was soooo good! Hubby and I were supposed to share the cake with each other but when Abby tasted it, she traded her ice cream for the cake!  Hee hee.
Unlike most New York Cheesecakes I've tasted before, which were rather heavy, this one from RMG was surprisingly soft and practically melts in the mouth.  I loved it!  I'd come back to RMG for this cheesecake!
We hope to visit RMG again.  Except for the cheesecake, the food we ordered didn't quite hit the spot.  Hopefully, we'll make better choices next time. ;)
Romano's Macaroni Grill
9828 Great Hills Trail
Austin, TX 78759
512-795-0460