There are two soup dishes from the Philippines, which, I dare say, are the top 2 national favorites:  sinigang (a sour soup that is usually tamarind based) and nilaga (boiled beef with vegetables – pechay and potatoes).
Yesterday, a busy day, I decided to cook sinigang na bangus (milkfish in tamarind broth) for lunch.  The fact that it only takes about 30 minutes to cook (it might be longer if using pork instead of fish) just makes this soup-slash-viand all the more appealing.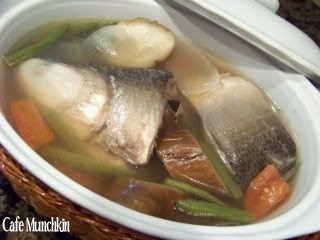 I have to admit that I cheated in making this dish.  I sought the help of Knorr Tamarind Soup Base Mix.  Hee hee.  *wink*  I hope this little admission of guilt doesn't make my Nanay turn in her grave.  Tamarind isn't always availalble in the Asian supermarket we go to.  My Mom and I have tried using lime as our sour soup base, but it just wasn't the same.
It's been a while since we've had sinigang.  Abby loved it and constantly asked to be served extra green beans (no stringbeans at the supermarket so green beans it was for us!).  With only Hubby, Abby and me partaking of the sinigang, I get to have the fish head (back home, it's my Mom who has that privelege.).  Woot!
With cooler weather making it's way to our part of the world soon, it looks like we'll be having sinigang a little more often. ;)