Last Tuesday, I pulled out some of my recipe books from the bookshelves to search for new dishes so I can update our daily menu.  We were scheduled to do our grocery shopping that day and I wanted to list down ingredients that I will need for the new dishes I was hoping to whip up for Hubby and Abby.
I first flipped through the pages of the recipe book by sister-in-law gave me for Christmas.  As I scanned the table of contents, my eyes zeroed in on an all too familiar dish… beef salpicao.  I immediately checked out the ingredients and the procedure and I thought, why didn't I think of making it before?!  The ingredients and procedure were very simple!
Beef salpicao is what Hubby usually orders when we eat at Dulcinea  at the Robinson's Galleria back home.  I knew right away that I'll score some major shopping credit if I were to attempt replicating the dish at home.  Hee hee.  So yesterday, Beef Salpicao was on the menu board.
Other than the recipe I already had on hand, I surfed the net for other salpicao recipes.  I wasn't surprised that there were a lot of variations.  So I took whatever I can take from each of the recipes.  This was the result…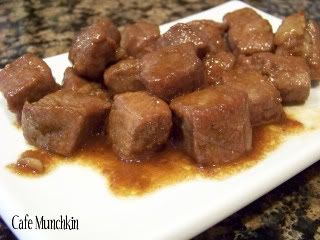 Ingredients:
1 lb beef tenderloin or sirloin or other tender beef cuts,  cut into 1/2 inch chunks
2 tbsp olive oil
1/2 cup minced garlic
salt and fresh ground black pepper, to taste
1/4 tsp paprika
3 tbsp oyster sauce (Note 11May09: Start with 1 1/2 to 2 tbsp then add more according to taste.)
1/4 cup liquid seasoning (Note 11May09: Start with 1/8 cup then add more according to taste.)
3 tbsp butter or margarine
1.  In a bowl, marinate the beef chunks in oil, garlic, salt, pepper and paprika for a couple of hours in the fridge.
2.  Saute the beef cubes with the marinade in very hot oil.
3.  continuously saute the beef cubes in high heat until they are browned evenly.
4.  Add the oyster sauce and liquid seasoning.
5.  Saute for a few more seconds and then add the butter.
6.  Turn off the heat and serve immediately with hot rice.  You may top it with garlic slivers and garnish with chopped parsley.
7.  It shouldn't take more than 10 minutes for to cook this dish.  Otherwise, the beef will lose its tenderness.
You may also use worcestershire sauce in place of the oyster sauce.  You might also want to adjust the amount of oyster sauce and liquid seasoning according to your taste.
Salpicao is definitely not a dish for someone who is on a diet, what with the use of butter.  Plus, it is such a perfect match for hot rice that you will want to have more rice!  Believe you me! *wink*