It naturally follows that if we bought tocino (cured sliced pork shoulder) at the Asian supermarket two weeks ago, we'll also by it's next of kin of sorts, the longganisa (cured pork sausage).  And we did that exactly!  Sorry, Mommy!  Hee hee!
MT (the Asian supermarket) only had one kind, the skinless longganisa…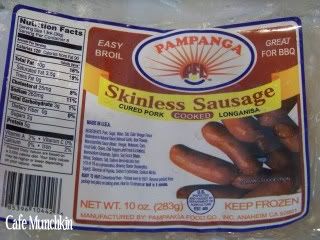 I would have preferred the little fat longganisa links from Lucban, but living thousands of miles away from the source, I can't really afford to be choosey.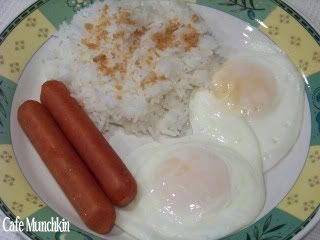 Typically, it would be LongSiLog – Longganisa, Sinangang at Itlog – but since I was too lazy to make fried rice, we settled for the next best thing  – kanin sprinkled with lots of crushed garlic chips.  Hee hee.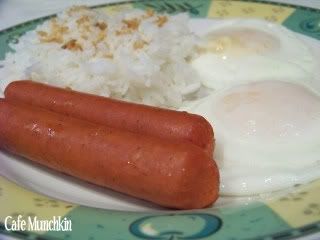 We liked the sweetness of the skinless longganisathat we bought.  Hubby had sliced tomatoes to go with his LongaKaLog.  I, on ther other hand, decided on vinegar dipping sauce.  Yum!
PS:  Take it easy on the preservatives, ok?  I just thought it was my responsibility to remind you.  Hee hee.  I'm not about to buy longganisa again anytime soon. ;)  Promise!