This week's Lasang Pinoy, Sundays' theme is "Pica-Pica".  I have two choices for you – one that is relatively healthy and another that you shouldn't probably enjoy on a regular basis. *wink*
First up, Finger Sandwiches…
To make these, I used lean turkey ham, cheddar cheese, a wee bit of light mayo and wheat bread.  Instead of simply cutting them into squares, I used my newly bought autumn-themed cookie cutters.  Even the cookie cutter shapes are of a healthy theme – leaves, pumpkin and apple!  That ought to count for something. Hee hee.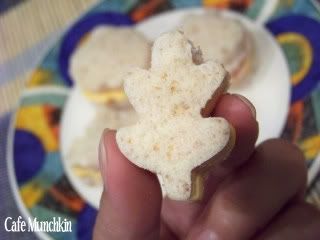 Ain't it cute?  Hee hee.  No bigger than my fingers!
Next up, Beef Franks Wrapped in Bacon…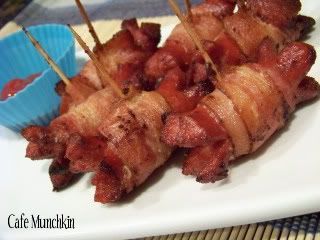 I haven't fried hotdogs/franks in what seems like forever.  I just boil them in a pan with water.  To make these, I sliced the bacon strips and beef franks in two, wrapped the beef frank slice with the bacon and secured with a toothpick, then fried them in hot oil.  Stick to the finger sandwiches if you're on a diet and currently undergoing acne treatment.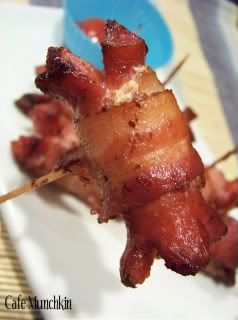 For a healthier alternative, you may use  turkey or chicken hotdogs/franks in place of the beef franks and a turkey bacon in place of a regular bacon.  But where's the fun in that? Hee hee!
Have a wonderful weekend and guten Appetit!