I love cheesecakes.  I used to consider blueberry cheesecake to be my favorite but now, I like all of 'em! :D  That's why when I got this issue (February/March 2008) of the Taste of Home magazine, I thought I simply must try it.  And I did…twice!  For the record, the only time I ever tried making cheesecake (a simple one at that!) was sooo many years back and it's something I've chosen to forget. :D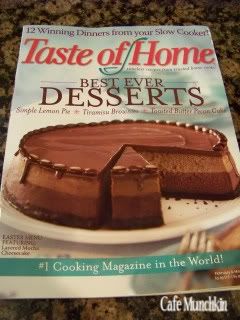 I'll share the recipe with you but not without torturing you first with the details of my 2 attempts at this dessert. Fair enough?  *wink*
Attempt #1
My first attempt was in April.  I knew before hand that the finished product will look nowhere near the photo on the front cover of the magazine.  For one, I didn't have a springform pan (yet!).  I made do with a square glass baking dish :D
Square baking dish aside, I thought my first brush with the layered mocha cheese was going pretty well…until I took a peek in the oven and saw two humongous bubbles at opposite corners of the pan.  Eeew!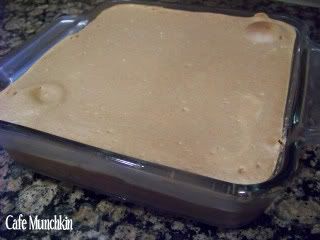 What a pitty!  When the rest of the mocha layer looked pretty decent!  Thank goodness the bubbles can be popped and will be covered with chocolate glaze anyway. How the chocolate glaze on the cake in the magazine cover came out so smooth is beyond me…
If you look past the white spots on the sides of the cake (which I can't!) and just close your eyes while you take a mouthful, I promise you that you'll still say "uhmmm!".  It IS really good!  But ever the OC person that I am, I knew I'd have a date with this dessert again soon.  I was on a quest for near perfection. Hee hee.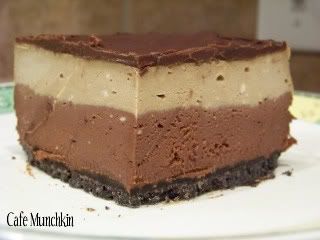 Attempt #2
It was about three weeks ago when I attempted to do this cheesecake a second time.  This time, I made sure I had a sprinform.  It's too bad I wasn't able to take a photo of the cheesecake prior to glazing it with chocolate.  You would have seen remarkable improvement in that I was able to avoid any huge bubbles.  I just had a few little ones.  Hee hee hee!
However, I failed miserably on the glazing part.  The chocolate was far from smooth and I think the glaze came out a little too thick!  It was difficult to slice through the chocolate glaze and it cracked when I tried to cut a slice.  In the end, I decided to just take out the chocolate glaze.   Tsk tsk.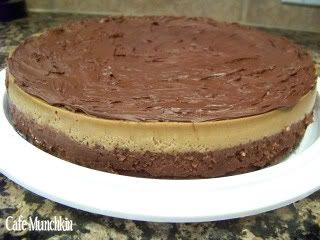 This is how a slice looked without the glaze.  I drizzled some chocolate syrup instead.  At least, there were no more white spots!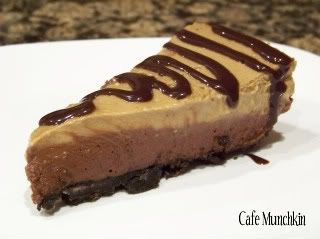 And because parts of the cake became a little mushy after I took out the glaze,  I ended up cutting a round cheesecake into squares.  There are cheesecake squares being served in a lot of places anyway!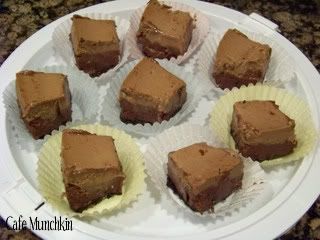 Hubby thinks it's better that the cheesecake are served in little pieces.  Because I'm telling you, this is a very rich indulgence!  Or was he just trying to make me feel better?  Hmmm…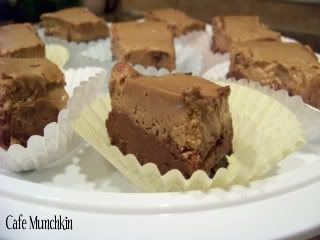 I'm already drawing up a rematch with this cheesecake.  It sure hasn't seen the end of me yet!  I still want to come up with a finished product that is as close to the one on the magazine cover as possible.  Wish me luck!
oOo
Finally, the ingredients and procedure.  Full credit goes to Sue Gronholz of Beaver Dam, Wisconsin who contributed this recipe to Taste of Home Magazine.
Ingredients:
* 1-1/2 cups cream-filled chocolate sandwich cookie crumbs
* 1/4 cup butter, melted
* FILLING:
* 2 tablespoons plus 1-1/2 teaspoons instant coffee granules
* 1 tablespoon boiling water
* 1/4 teaspoon ground cinnamon
* 4 packages (8 ounces each) cream cheese, softened
* 1-1/2 cups sugar
* 1/4 cup all-purpose flour
* 4 eggs, lightly beaten
* 2 teaspoons vanilla extract
* 2 cups (12 ounces) semisweet chocolate chips, melted and cooled
* GLAZE:
* 1/2 cup semisweet chocolate chips
* 3 tablespoons butter
* Chocolate-covered coffee beans, optional
Directions:
* Combine cookie crumbs and butter; press onto the bottom of a greased 9-in. springform pan. In a small bowl, combine the coffee granules, water and cinnamon; set aside.
*  In a large mixing bowl, beat the cream cheese, sugar and flour until smooth. Add eggs; beat on low speed just until combined. Stir in vanilla. Divide batter in half. Stir melted chocolate into one portion; pour over crust. Stir coffee mixture into the remaining batter; spoon over chocolate layer.
*  Place pan on a double thickness of heavy-duty foil (about 16 in. square). Securely wrap foil around pan. Place in a large baking pan; add 1 in. of hot water to larger pan.
*  Bake at 325° for 45-50 minutes or until center is just set and top appears dull. Remove springform pan from water bath. Cool on a wire rack for 10 minutes. Carefully run a knife around edge of pan to loosen; cool 1 hour longer. Refrigerate overnight.
*  In a microwave-safe bowl, melt chocolate chips and butter; stir until smooth. Spread over cheesecake. Remove sides of pan. Garnish with coffee beans if desired. Refrigerate leftovers.
Yield: 16 servings.
oOo
Come with me to the Dallas World Aquarium, my other WS entry.
Have a great week ahead!