What we have at home is an old-fashioned charcoal grill.  And because it's too tedious to set up and get the fire started, I choose to broil in the oven instead.  Hubby and I won't end up smelling like smoke, too!   Besides, broiling is a healthier alternative to frying! *wink*
I broiled pork riblets several days ago.  It's the first time we ever bought pork riblets from the store and it's definitely not going to be the last.  The riblets are actually meaty and Hubby is quite pleased about that.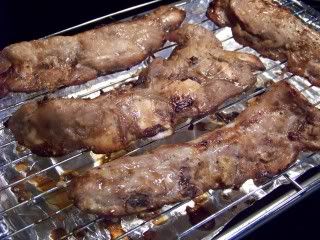 I simply marinated the pork riblets in salt, pepper, lots of garlic, lime, soy sauce and equal portions of soy sauce and Sprite and let it rest in the fridge for about 3 hours.  By the way,  I got the idea of adding Sprite to the marinade from my friend, Nell.
I've had broiled meat come out of the oven like charcoal before because of over broiling them.  I wasn't about to let it happen again, and I didn't!  I broiled one side of the riblets for 25 minutes, but in increments of 10-10-5 minutes.  And then I turned the ribs over and broiled the other side for a total of 15 minutes (10 first, then 5).
For dipping sauce, I mixed vinegar, soy sauce and crushed garlic.  Yum-mee! ;)