Remember the ramekins I bought at Target for $1 for 2 pieces?  These ones…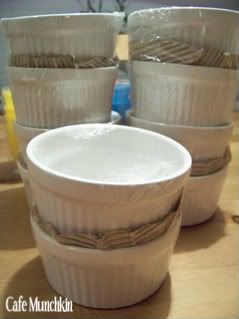 They have been sitting pretty in one of the kitchen cabinets, still wrapped up until a few days ago, when they finally had a warm shower under the kitchen sink faucet.  I decided to put them to good use and make single-serve bread pudding.  Creme brulee or chocolate souffle would have been my first two choices but that'll happen in good time.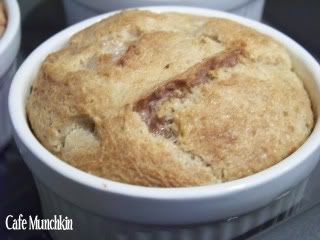 I adapted my pool proof bread pudding recipe to these little containers.  As expected, they came out of the oven puffed and pretty.  My only problem is that they didn't stay that way very long.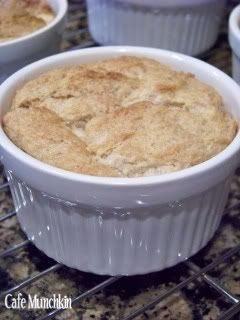 The puffiness of the pudding was gone in less than five minutes.  They look far worse than the ones in the pic above.  I should have taken a photo!  Anyway, I did a little snooping in the internet and found some suggestions which might prove to be helpful next time.  One is to let the bread soak in the milk and whip cream mixture for a few hours, or overnight even.  I think it would also be good if I there are less gaps between the pieces of bread and make them fit in the ramekin a little more snuggly.  I shall test these solutions some time next week.
I made a total of 10 single-serve bread pudding, primarily because I only have 10 ramekins!  Hee hee. *wnk*  I used one slice of bread per ramekin.  But I will use more next time, remember, snug fit!
Ingredients
2 cups whipping cream
3 cups whole milk
1 cup sugar
3 medium sized egg
3 teaspoons vanilla
dried fruit (optional)
To make:  Place 1-2 slices of bread in a ramekin, covering the bottom.  If using dried fruit, sprinkle over the bread then top with the remaining pieces of bread.  Press down firmly to flatten and "trap" the dried fruits.  Whisk together all the ingredients for the custard then carefully pour over the bread pieces until they are practically submerged.
Let this stand for about 10 minutes (I now suggest a few hours to maybe overnight for better results!) so that the bread can absorb the cream/milk/egg mixture.  Pre-heat the oven to 350 F.  Cover each ramekin with foil and put them in a larger pan with about a quarter to half inch of hot water.  Make sure the foil isn't touching the tops of the bread.  Put the pan containing the ramekins in the oven and bake for roughly 30 minutes.  Remove the foil and cook for another 20-30 minutes until it is puffed up, the liquid has been absorbed and the tops are just lightly browned.  Chances are you'll have to cook beyond 30 minutes.
I'll be making a new batch again next week! ;)