I had a difficult time with this week's theme.  That only means one thing, we don't eat enough fish! Except for the 3rd photo, all the photos in this entry are "recycled".
First, the home-cooked fish dishes…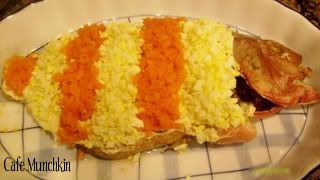 Steamed Lapu-lapu is a childhood favorite fish dish of mine.  Perfect with mayo and steamed rice.  The fish in the photo, however, is not lapu-lapu (grouper).  I can't remember what the above fish is called.  Sorry!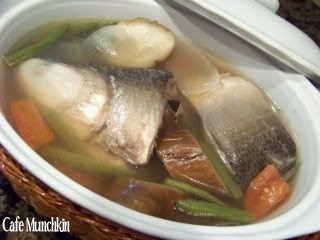 Sinigang na Bangus (Milkfish in Tamarind Broth) – Sinigang is a favorite soup-based dish in the Philippines, I'd say neck-and-neck with nilaga. It is a better alternative, too, to Sinigang na Baboy (Pork).
Fish dishes from our restaurant expeditions….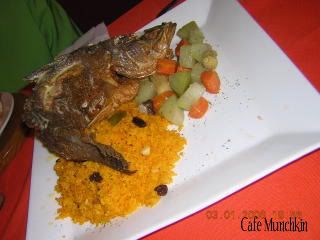 Whole Line Fish from Fish & Co. (Greenbelt 4 branch) – Whole line fish, fried and served with lemon butter sauce and seafood rice and vegetables.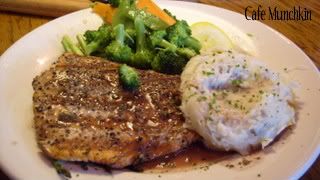 Cracked Peppercorn Salmon from Outback Steakhouse: "Fresh grilled Atlantic Salmon encrusted with flavorful cracked peppercorns and topped with a delightful Cabernet sauce. Served with wild rice and roasted garlic mashed potatoes."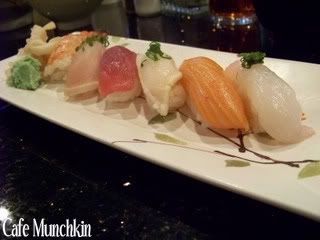 Sushi Platter from Tokyo Steakhouse – I don't need my fish to be cooked as long as they are served in this manner. ;)  The sight of sushi makes my pulse race, I tell you!  Hee hee.
Do you think there are plenty of fish dishes in Mediterranean cruises? Just a thought. :D
Enjoy the rest of the weekend, y'all!