I don't like ampalaya (bitter melon/gourd) precisely because it's bitter.  And I don't know why, for the life of me, I picked up a pack of 3 ampalayas at the Asian supermarket.  I think I was toying with the idea of cooking pinakbet, because Hubby does eat ampalaya.  Then again, I forgot to buy squash, so pfft went the plan of cooking pinakbet.  Instead of letting the bitter melons go to waste, I asked my Plurk buddies for recipe suggestions.  Some suggested Ampalaya con Carne, another friend suggested Ampalaya with Beef and Sotanghon.  What caught my attention, however, was the recipe recommended by Chef Thess…Stuffed Bitter Gourd with Shitake Mushrooms.  I checked out the recipe here and thought, why not? ;)  I kinda liked the suggestion that one step in the preparation of the bitter melon will actually take away the bitterness.  I was skeptical, of course!  My only problem was I didn't have shitake mushrooms.  I used sliced button mushrooms instead.
Here are the ingredients I used:
3 bitter gourd
1 lb. (or so) ground turkey
1 small can sliced mushrooms
1 cube chicken broth
2 Tbsp tsoy sauce
2 Tbsp seasoning soy sauce
2 tsp oyster sauce
4 tsp sugar (or more!)
8 cups water
1.  Season ground turkey with oyster sauce, soy sauce, seasoning soy sauce, and ground pepper. Mix thoroughly and set aside.
2.  Wash bitter gourd, cut both ends off, and slice into 2-3 sections about 2″ lenghts. Scoop out the seed and the white fluff part.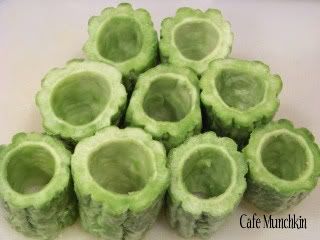 3.  Sprinkle salt all over the sliced bitter gourd (inside and outside), leave them for 30 minutes (this precess will get rid of bitter taste), then rinse in water.
4.  Stuff each section of the bitter gourd with the seasoned ground turkey (or your ground meat of choice).   Do not overstuff.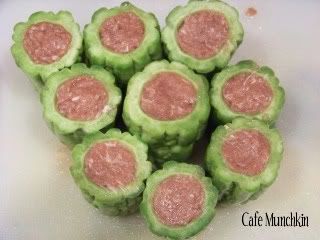 5.  Place a toothpick in the middle of each piece to prevent the pork from sliding out during the cooking process.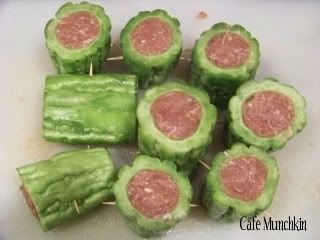 6.  Pour water in a pot, bring to boil on medium-high heat, add chicken broth cube. When the soup is boiling, add stuffed bitter gourd, mushrooms, and mushroom water.
7.  Season with soy sauce, seasoning soy sauce, and sugar.  Stir well and allow to boil. Reduce the heat and simmer uncovered on low heat until soft.  (If the soup stock reduces too much, add more water, season with soy sauce and sugar to taste.)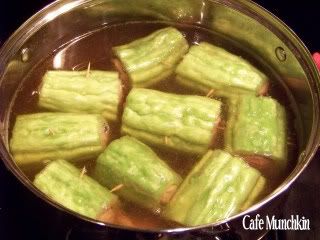 8.  When the bitter gourd is soft, remove from heat, put the soup in a bowl.  Remove toothpicks and serve immediately.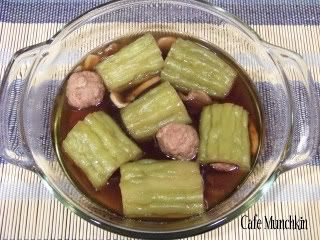 If you noticed the two meatballs, they're the leftover ground turkey.  I had no more bitter melon to stuff so I just made them into meatballs.
I was really hopeful that the salt will take away the bitterness of the bitter gourd.  I was wrong.  Maybe I should have used more salt or let the bitter gourd soak in salted water for a longer time instead. I thought I was finally going to make peace with ampalaya.  Unfortunately, this is how my stuffed ampalaya ended up looking that time we had it for dinner…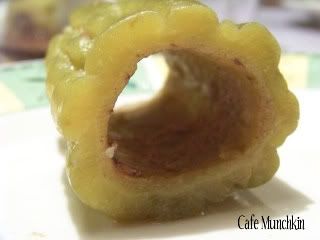 I did try to eat a few bites, then gave up altogether.  Abby tasted the ampalaya, too and I was hoping she will like it.  Oh well, Abby may not know the difference between CPM and bpm, but she sure knows the difference between sweet, sour and bitter!  "I don't like the green stuff," was all she could say. :)
The following day, we had the leftovers for lunch.  This time, I successfully ate one stuffed ampalaya!  Woohoo!  I'm telling you, I'll keep at this until eating ampalaya seems like second nature to me.  I conquered Durian.  I shall conquer ampalaya, too! ;)