In the Philippines, hotdogs on sticks are a common party fare.
Photo Credit:  Photo by Owee Salva, taken on Abby's 1st birthday party
I miss red hotdogs!  And no, these weren't painted in a paint booth. I haven't had red hotdogs in over a year now.  While they are available at the Asian supermarket, practicality just triumphs all the time.  Natural colored hotdogs are so much cheaper! :D
oOo
I ordered Grilled Shrimp Skewers at Denny's for dinner a few hours ago, for La.Pi.S. purposes.  Oh, and because grilled shrimps are far healthier than most of the items on the Denny's menu. *wink* The shrimp skewers were served on vegetable rice pilaf.  I had a side of mixed veggies, too!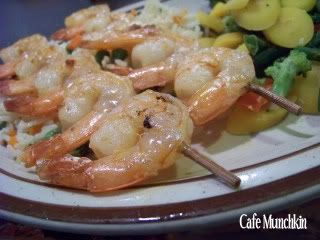 I'm not a big Denny's fan because the last 3 or 4 times we ate there, the food I ordered just doesn't come up to par.  I don't know if it's because we were in good company tonight, but I really enjoyed everything that was on my plate.
oOo
I made turkey meatballs for lunch last Thursday.  It's ketchup you see on the silicone cup but I found out that sweet and spicy sauce was a better match. ;)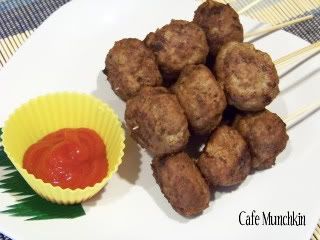 Ingredients
1 pound ground turkey
2 tablespoons bread crumbs
warm milk, about 3 tablespoons
1/2 cup cream
1 egg
salt & pepper
1 egg yolk
Preparation:
Soften bread crumbs with milk and add to meat. Add cream and mix. Add egg and seasonings and stir. Roll into balls and fry.  Serve with your favorite dipping sauce.  Hubby preferred ketchup.  As I said, I liked the Thai sweet and spicy sauce. ;)
Enjoy what's left of the weekend and have a great week ahead!  Cheers!