This is Camaron Rebosado, shrimps dipped in batter then deep fried.  Serve with hot rice and sweet chili sauce and you're pretty much a done deal.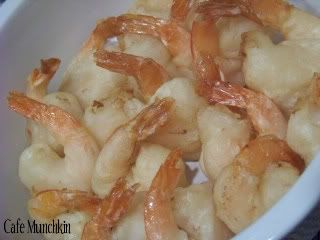 Simple, isn't it!  But if you want to go the extra mile, you can transform the exact same dish above into this…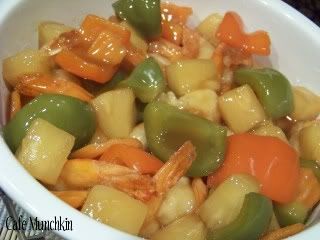 …Sweet and Sour Shrimp.  That's quite a nice trick don't you think?  Only, it takes more than just a snap of the fingers.  :D  It looks way better than the Sweet and Sour Fish I made a while back.  Maybe because this time, the red and green peppers were cut properly.
To make the Sweet and Sour Shrimp, I used the same recipe for the Sweet and Sour Fish.  For the batter, I normally use my Camaron Rebosado batter mix.  But this time, I found what I believe is a better batter mix.  And I didn't even have to use eggs. *wink*
Without further ado, here's the recipe:
Sweet and Sour Sauce
2 carrots, thinly sliced diagonally
1/2 c water
1 – 1 1/2 lbs large shrimps
1/2 c packed brown sugar
1/3 c vinegar
2 tbsp cornstarch
2 tbsp soy sauce
1 can (13 1/2 oz)pineapple chunks
1 green bell pepper, chopped
1 red bell pepper, chopped
Shrimp Batter
3/4 c water
2/3 c flour
1 1/4 tsp salt
1/2 tsp baking powder
* Heat carrots and water to boiling.  Cover and cook until crisp tender (about 8-10 minutes).
* In a saucepan, mix brown sugar, vinegar, cornstarch and soy sauce.
* Stir in carrots (with liquid), pineapple (with liquid), and the green and red bell peppers.
* Heat to boiling, stirring constantly.  Boil and stir for 1 minute then keep warm.
* Dip shrimps into batter with tongs then fry a few pieces at a time until golden brown.  Drain on paper towels.
* Arrange the shrimps on a platter.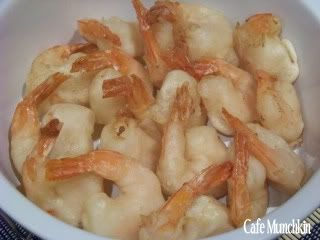 * Pour the sauce over the shrimps.  Serve with hot rice.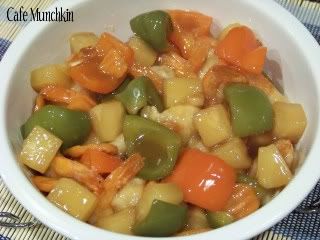 Next time I whip up this dish, I might just consider taking an appetite suppressant to avoid over eating! Kidding. :D
I have one more WW entry: Playing Catch at the Pumpkin Patch.
Happy Wednesday! :)