Today is a good day, as far sa my bento lunch initiatives are concerned.  Hahaha!  Lookey…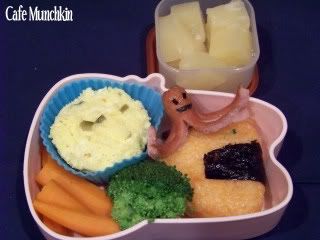 This is probably my most bento looking bento lunch todate! *wink*  Not only that, everything's in there: carbohydrates – check!; protein – check!, fruits and veggies, check!  And look, no gaps!  Yes, there's hope for me indeed…if I may say so myself.  Hee hee.
I finally got to use one of the onigiri molds I bought from Asahi, the little Japanese grocery 20 minutes away from where we live. I got the idea for the Ketchup Yaki Onigiri and Frittata from the bento box guru herself, Ms. Biggie of LunchInaBox.
I did overcook the frittata that's why it came out a little dry.  It's a mixture of one egg, chopped shrimps, green peas and carrots and a little salt.  Abby's not too big on ground pepper!  I hope my next frittata comes out looking better. *cross fingers*
To make the Ketchup Yaki Onigiri, mix 3/4 cups of warm rice, 1/2 teaspoon butter and about a tablespoon of ketchup.  I added a dash of salt, too!  You can form the rice into balls if you don't have an onigiri mold.  Then fry the onigiri in a pan coated with nonstick spray until it has browned a little.  I underfried mine! Hee hee!  You may add a strip of nori (dried seaweed) to the onigiri, but that's optional.
Did you notice the octodog?  That's the cocktail hotdog with a big smile waving right at yah! :)  The veggies, on the other hand, were steamed.
I'm having a lot of fun as I continue to acquaint myself with the art of bento lunches…for a 4-year old at that!  Maybe Hubby and I should start eating our meals in a bento box, too!  Ooh, I gotta get myself more bento boxes if that will be the case!  Hahaha!
I'm off to Ebay now, to keep watch on some items for my bento inventory.  Does Ebay have Black Friday sales as well? Just wondering. :D