This is a postscript to the entry I posted this morning.
I've often wondered how the gorgeous bento boxes with beautifully and creatively presented food I've seen from a number of websites look at the end of the day.  Specially the ones meant for school-going children.   Then again, with meals so beautifully presented, how can one not finish whatever's inside the box?
I'll let you take a peek in Abby's bento box.  Here it is fresh out of the lunch bag…
This was how it looked in the morning…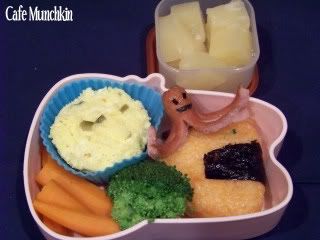 I'm  happy that there's no trace whatsoever of the Ketchup Yaki Onigiri.  I'm happy, too that only a quarter of the Frittata was left.  Surprisingly, Mr. Octodog is still there, with one detached tentacle…and another one missing.  Hahaha!  Abby only ate a stick or two of the carrots and the broccoli is still ever present.  But what happened to the pineapples?  That is the big mystery.  The side dish container didn't quite make it back home.  First time that ever happened.
Abby must really like the onigiri.  This afternoon, she requested that we, yes, she and I, make some.  She ate 3 pieces for her snack!  Carbo loading to the max!
Almost untouched veggies and decapitated octodog notwithstanding, I'm happy.  Because Abby ate rice in school!  There is hope for my daughter!  We're on!  Yeeeehaaa! :D