Target shooting has become sort of a weekly habit.  That is, going to Target and shooting all sorts of stuff in my shopping cart. ;)
Two or three weeks ago, I bought 2 new rugs which were on clearance, as in 75% off and a few other things for the living room and the kitchen.  Last week, I was at it again!  Here are my loots from the "dirt cheap corner"…they don't really call it that, but I do! Ha!
#1 – A serving bowl that is dishwasher, microwave and oven safe!  It comes with a metal stand, too.  Price, $2.50.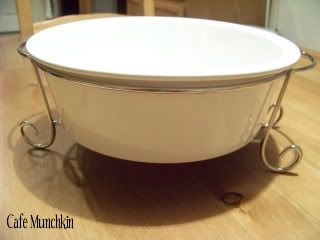 I'll see if I can buy a few more bowls.  I think it would make a nice gift bowl of sorts.  I can fill it up with cookies or other baked goodies then wrap it nicely with a clear plastic wrap plus some twirly ribbons. :D  Christmas is just around the corner, yah know! ;)
#2 – Rolling Pin – $1.00
I don't intend to use this for heavy rolling.  I have a heavy duty rolling pin for that!  Sometimes, I make sandwich rolls for Abby and I use drinking glasses to flatten the bread slices a little.  It's about time I upgrade to a real rolling pin do to the job. *wink*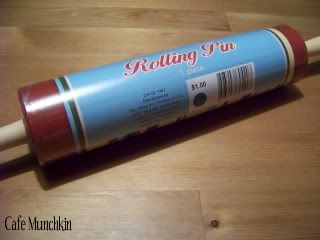 #3  – Cookie Cutters – $1
I was disappointed with the Wilton metal cookie cutters I bought a few weeks ago, the autumn-themed ones.  They cost $1.88, I think, and apparently, they were not of stainless material.  So I got these halloween/autumn themed palstic cookie cutters.  I already have a Christmas themed one from last year.  Hee hee!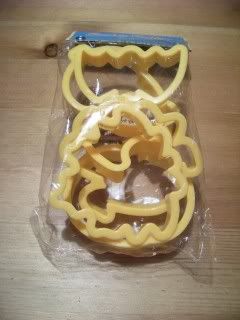 I'll be avoiding Target this weekend.  Well, maybe not!  I have to get myself some more of those two-dollar-fifty bowls! ;)