Today's photo hunt theme is "SCARY".  I chose photos of food, which will have you gripping your bed frames in fear.  Kidding.  They're not that scary really, but I understand why a lot of people will not want to eat them.
First, our favorite, Chicken Feet!  Ok, so it's not as pretty as most chicken parts like the legs, thighs, wings or breast.  I'm willing to admit that it might look a little gross, specially to people who aren't really used to seeing, much less, eating them!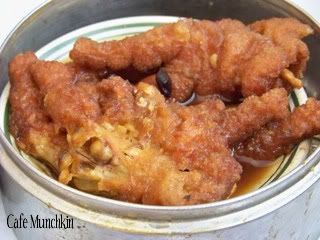 How would you like to have a whole roast pig on your dining table?  This is called Lechon de Leche.  I've already posted an entry about it here.  Trust me, it tastes better than it looks.  It doesn't usually look this bad.  This was from a Filipino store in Dallas.  The lechons we have back home have very shiny and crunchy skin and they usually have a complete pair of ears.  Hee hee.  I don't know what happened to this piggy.
Have a wonderful weekend, y'all!