Hubby and I share a common love for food.  A fact which is becoming more and more "visually obvious". *sigh*  Oh well.  Except maybe for ampalaya, I can say that our compatibility goes beyond our relationship as husband and wife and extends to food.  Hee hee.
We love spicy food…among others.  We like to challenge our tastebuds' tolerance for spicy food every now and then. When we discovered a Thai Passion a couple of weeks ago, we made sure we ordered a curry dish.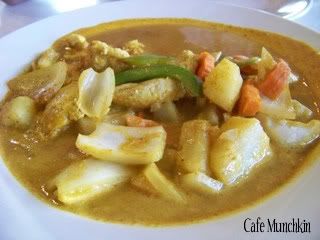 The dish in the above photo is called Thai Passion Curry (Garee), which is Thai yellow curry with potatoes, carrots, bell peppers and onions.  Our choice of meat was chicken.  The curry sauce alone paired with hot rice is already enough to satisfy my appetite!
You can say that hubby and I are predictable eaters.  When we ate at another Thai restaurant, Pad Thai, (a restaurant we discovered on our way to buy office supplies at Walmart) we ordered the same curry dish we ordered at Thai Passion!  I think we wanted to gauge which one of the two restaurants had the better curry. ;)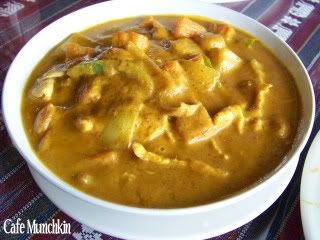 Because Abby's tastebuds aren't trained yet in the art of spicy food appreciation, Hubby and I just resort to sprinkling the more "friendly" dishes, like noodles and fried rice, with this…
A good sprinkling of these is enough to have us drinking lots of water and wiping sweat from our foreheads…just the way we like it. ;)
Happy Anniversary to spiCes!  Cheers and more power!