While I diligently take photos of the bento lunches I make for my 4-year old daughter, I haven't been quite diligent in posting them.  I was checking my Abby's Bento Lunch photo archives and found several where I used Halloween sticks (the only kinds I have!).  So please don't be surprised if in the next few days, you see a witch hat and a pumpkin in Abby's bento lunch box when we're well on our way to Thanksgiving. :)
This is my most well received bento lunch for Abby thus far…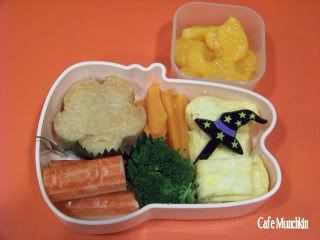 In the box are a flower-shaped adobo onigiri, carrot sticks, tamagoyaki, broccoli and crab sticks and for dessert, some mandarin orange slices.
I made the adobo onigiri using the sauce from left over adobo the night before.  I simply mixed a tablespoon or two of adobo sauce with 3/4 cup rice, formed them into a flower then fried them a bit in a pan oiled with non-stick spray.  The tamagoyaki isn't the "real" tamagoyaki.  I didn't use dashi in cooking the egg.  I simply added some seasoning and a bit of water to water down the egg mixture.  But now that I've got myself some real dashi courtesy of Hubby's boss, I'll be able to make real tamagoyaki soon. ;)
Abby devoured the contents of this bento box, save for the broccoli.  A winning bento lunch moment for me. *pats self on the back*  Weeee!