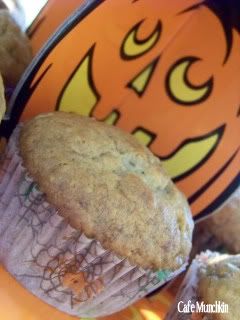 Early Friday (halloween) morning, I baked banana muffins for a friend who will be having friends over at her house after trick-or-treating at the mall.  I've made banana muffins countless times and people I've given these baked treats to before have always been pleased at how moist and good the muffins are.  You can say I was confident enough to give these treats for "testing" to a new group of people.
I made 24 muffins, 15 to be given away and the rest to be kept for ourselves.  I was already cooling the muffins and cleaning the counters when I stopped on my tracks and realized that of all things, I forgot to put eggs in the batter!  Ugh!
I immediately popped one muffin out of the pan for immediate tasting.  I thought it tasted quite the same except maybe that it was a little less moist than usual, but still moist.  I called on dear Hubby for some impromptu taste testing.  I asked him to take a bite from the muffin without telling him anything.  He was a little suspicious, of course.  And after taking a bite, he said the muffins tasted like my usual muffins.  I was relieved, to say the least.  Hubby kinda confirmed that I didn't just imagine that the muffins tasted fine… good enough to be packed in a Rimowa aluminum suitcase.  Hee hee! ;)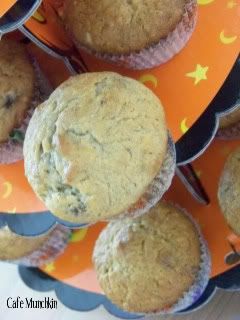 If you want muffins with a little less cholesterol, then eggless is the way to go. ;)  Here's the recipe…the very same one I've posted here before but sans the eggs. :D
Ingredients:
1 1/2 cups all-purpose flour
1 teaspoon baking powder
1 teaspoon baking soda
1/2 teaspoon salt
3 large bananas, mashed
3/4 cup white sugar
1/4 cup milk
1/3 cup butter, melted
DIRECTIONS
*  Preheat oven to 350 degrees F (175 degrees C). Coat muffin pans with non-stick spray, or use paper liners.
*  Sift together the flour, baking powder, baking soda, and salt; set aside.
*  Combine bananas, sugar, milk, and melted butter in a large bowl. Fold in flour mixture, and mix until smooth. Scoop into muffin pans.
*  Bake in preheated oven: 10 to 15 minutes for mini muffins, and 25 to 30 minutes for regular-sized muffins. Muffins are done when they spring back when lightly tapped or when a toothpick inserted comes out clean.
What can I say?  We do learn from our mistakes and not all mistakes are not at all bad! :D
oOo
My little girl was Supergirl for Halloween, my other Weekend Snapshot entry.
Have a great week ahead! :)