My monster cupcakes return! :)  A week ago, I posted an entry about my Halloween Treats Dry-Run.  It was a "dressed rehearsal" of sorts for the treats I intended to make for a post-halloween party we were attending.  That party was last Saturday, November 1st.  You can say that was "opening night" for my monster cupcakes.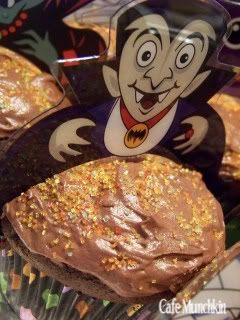 I really didn't do any more tweaking to the recipe.  I just made sure I filled the muffin pans just half-way to keep the batter from overflowing, which was what happened last time.  I also did away with the canned frosting and made chocolate buttercream frosting from scratch. ;)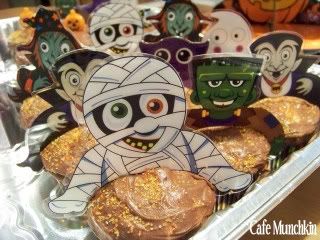 I got the recipe for the cupcakes here and the chocolate buttercream frosting here.
1 1/3 cups all-purpose flour
2 teaspoons baking powder
3/4 cup unsweetened cocoa
3 tablespoons butter, softened
3/4 teaspoon vanilla extract
1.  Preheat oven to 350 degrees F (175 degrees C). Line a muffin pan with paper or foil liners. Sift together   the flour, baking powder, baking soda, cocoa and salt. Set aside.
2.  In a large bowl, cream together the butter and sugar until light and fluffy. Add the eggs one at a time, beating well with each addition, then stir in the vanilla. Add the flour mixture alternately with the milk; beat well. Fill the muffin cups 3/4 full.
3.  Bake for 15 to 17 minutes in the preheated oven, or until a toothpick inserted into the cake comes out clean. Frost with your favorite frosting when cool, in my case, chocolate buttercream frosting. ;)
Chocolate Butter Frosting
Ingredients:
1/2 cup butter, softened (you can use margarine but the flavor will not be the same)
2 2/3 cups confectioners' sugar
1/3 cup half-and-half cream or milk (can use unwhipped whipping cream in place of half and half)
1 1/2 teaspoons vanilla
CHOOSE ONE OF THE FOLLOWING
1/3 cup unsweetened cocoa powder, sifted (for light)
1/2 cup unsweetened cocoa powder, sifted (for medium) – This is what I used!
3/4 cup unsweetened cocoa powder, sifted (for dark rich)
Directions
1.  Cream the butter in a small bowl.
2.  Blend in the cocoa powder (the amount desired for a light, medium or dark flavor), vanilla, confectioners sugar, alternately with the cream.
3.  Beat with an electric mixer, until the desired texture is achieved.
**NOTE** because of the additional cocoa powder more cream may have to be added in to reach desired consistency.
I love the chocolate buttercream frosting!  If you see the amount of sugar in it, you'll know that it's clearly not for dieters. *wink*