We always have bananas, which somehow always find themselves in danger of going to waste.  I usually make banana muffins to salvage the bananas but a couple of weeks ago, to spare Hubby and Abby from yet another dozen or two of muffins, I decided to make something totally new and different…Banana Pudding!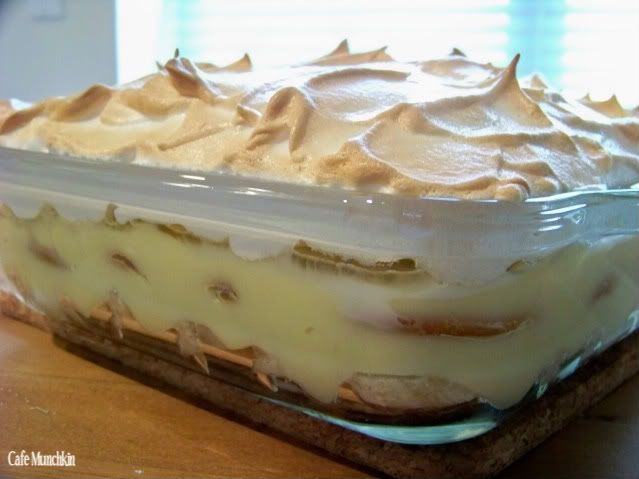 I was beyond ecstatic after I was through with my banana pudding adventure.  For one, it was the first time I ever made a meringue topping.  I usually avoid recipes where I have to top my cakes with meringue.  I realize now that there's no cause for fear.  Hee hee. ;)
I found the recipe here, and the recipe contributor, Patricia Mitchell, calls it The Best Banana Pudding. :)  I'm posting the recipe as well as a step by step photo tutorial of sorts. ;)  Enjoy!
Banana Pudding:
1 cup Sugar
1/2 cup all-purpose flour
1/2 teaspoon salt
2 cups milk (whole or 2%)
1 teaspoon vanilla extract
1 tablespoon butter (not margarine)
4 egg yolks (large eggs or better)
box of Vanilla wafers
6-8 ripe bananas
Meringue:
4 egg whites, at room temperature
5 tablespoons sugar
1/4 teaspoon cream of tartar
1/2 teaspoon vanilla extract
1.  Preheat oven to 375°F.
2.  Line the bottom of a 9″ x 9″ baking dish  (I used 8″ x 8″) with a layer of vanilla wafers. (This recipe will not use the whole box.)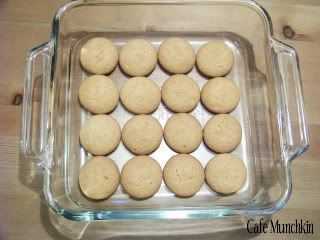 3.  Peel the bananas and slice into 3/8-inch rounds.  Cover the banana slices with plastic wrap to keep them from darkening and quickly make your pudding.
4.  Combine the sugar, flour and salt in a bowl, and stir well to mix. Mash out any flour lumps with the back of your spoon. Set aside.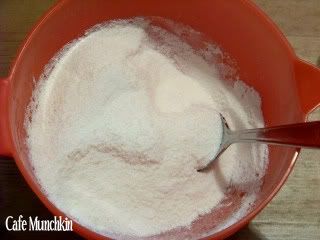 5.  In a heavy saucepan, beat the egg yolks well (just use a fork or whisk, but beat them well).
Over medium heat, add the flour mixture to the egg yolks, alternately with the milk and vanilla, stirring constantly.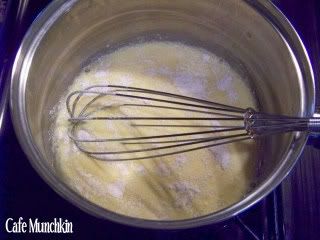 Bring to a gentle boil and, when the mixture begins to thicken, add the butter, continuing to stir. Keep boiling and stirring until mixture reaches a nice pudding consistency. [Note: If you're working with an electric cooktop, adjust the heat so that it's hot enough to boil, but not so hot that the pudding scorches.] Remove from heat.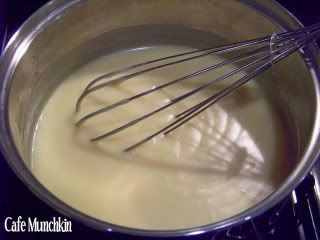 6.  Place a layer of banana slices in the baking dish on top of the vanilla wafers. Line the banana slices up edge-to-edge.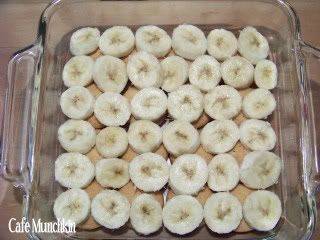 Pour, spreading as necessary, half of the pudding over the banana layer.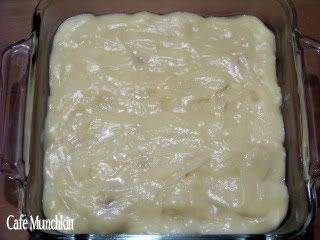 Put down another layer of vanilla wafers, another layer of banana slices, and cover with the remaining pudding.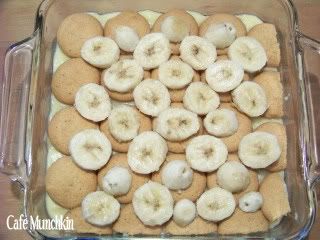 (Note:  I only had 5 bananas and obviously, I needed more!  Be sure to have at least 6 bananas handy!)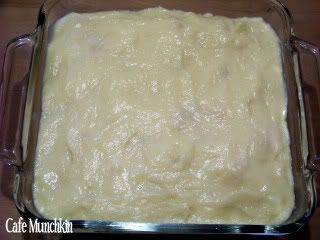 7.  Beat the egg whites at high speed until they form soft peaks. Add the cream of tartar.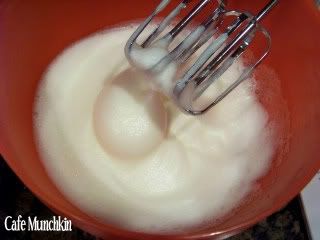 At high speed, gradually add the sugar, a tablespoon at a time, and beat until stiff peaks form.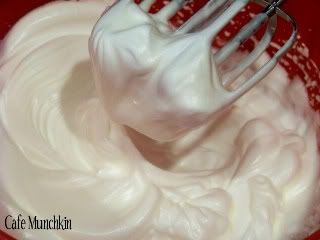 Fold the vanilla into the meringue, and spread the meringue over the pudding, sealing it at the sides of the dish.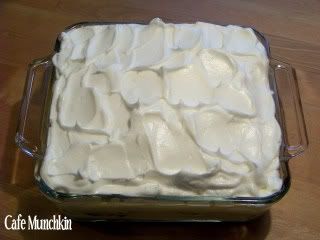 8.  Bake in a preheated 375°F oven until meringue browns, 12 to 15 minutes, depending upon your oven.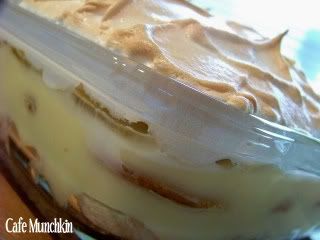 This is how it looks like when sliced.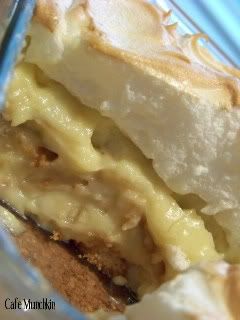 I found the banana pudding to be a little too sweet for me.  I think it's due largely to the fact that the vanilla wafers are already sweet.  If and when I do this again, I will probably lessen the amount of sugar.
A slice of this will most definitely do damage to your diet. ;)  Hee hee.
I have another weekend snapshot entry, The Caped Ones.
Have a great week ahead!