My Mom will be very pleased with this entry so I lovingly dedicate it to her.  This is for you, Mommy! :D
You see, my Mom scolded me for buying longanisa (Filipino-style sausage) at the Asian market a couple of weeks ago, which is understandable.  As much as possible, she wants us to stay away from preservatives. Well, we want that, too, but you and I know it's easier said than done.  Plus, I've always loved longanisa!  With fingers crossed behind my back, I promised I won't buy frozen longanisa ever again. *wink*  Thanks to my blogging friend cum Plurk buddy, Nell, who  swears by the ease of making homemade skinless longanisa, I found a way to keep my promise.
I proudly present to you my very first skinless longanisa links.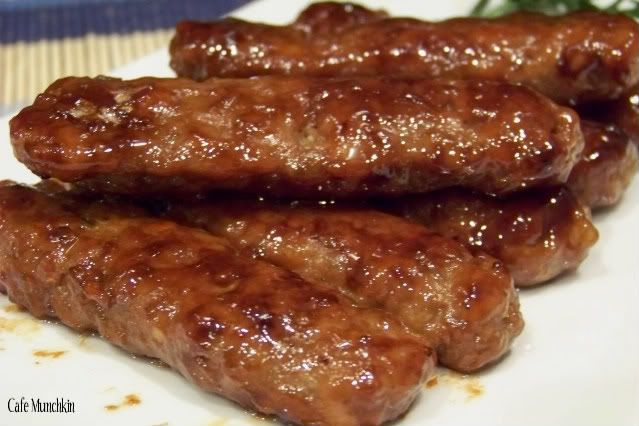 Move over Pampanga's Best!  Kidding. I found forming the ground pork into logs can be a bit time consuming.  But that's just obsessive-compulsive me talking.  What I found easier to do was to just form them into patties, as inspired by the sausages in the McMuffins of McDonald's.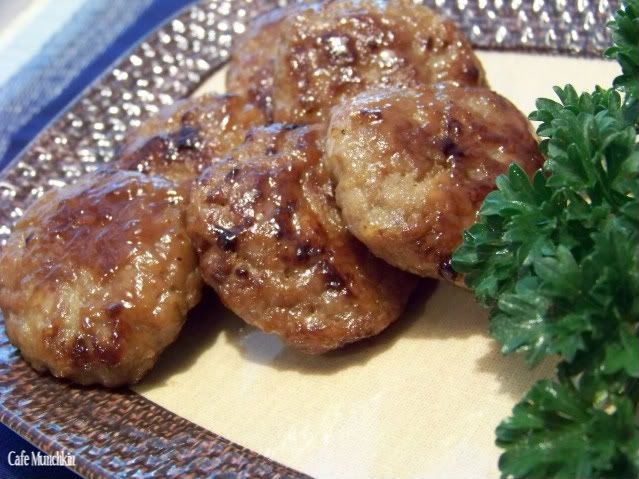 Hubby and Abby prefer the logs though.  Hmp!  So I form just enough logs for them and lots of patties for myself. :P
Here's the recipe, which I got from here.
Ingredients:
1 kg ground pork
1/2 cup brown sugar
4 tablespoons worcestershire sauce
1 teaspoon fresh cracked peppercorn
4 teaspoons fine salt (Note: I use sea salt which is less salty than iodized/fine salt. You might want to try using a few teaspoons of salt first and adjust according to your taste.)
1 tablespoon hot sauce (optional – I didn't put any in mine.)
1 tablespoon garlic, minced
2 tablespoons knorr seasoning
Mix everything by hand in a large bowl.

Form into thin logs (or patties!) and refrigerate.

Fry in a little hot oil.

Serve with garlic fried rice or hot pandesal buns.
The recipe yields about 20 pcs. depending on the size of your longanisa logs.  Prep time is about 30 minutes, also dependent on how quickly you form your longanisa into your chosen shape.  I have to admit it probably took me longer than 30 minutes.  OC, I tell you! :)  And you know what else?  You can freeze the uncooked longanisa for later consumption!  *wink*
I swear, these taste as good as the ones you can buy from a store!  I can now proudly say that I no longer have to go to the Asian store for my longanisa fix.  Now, tocino (cured pork) is another story. :)