A box of goodies for our family arrived yesterday.  Woot!  *insert dance of joy* Thanks to our dearest Singapore-based friends, Jeric and Melisse for the early Christmas presents!  Or were they meant for Thanksgiving, meaning another box is coming for Christmas?  Kidding.
I have another (recipe) book to add to my ever growing collection…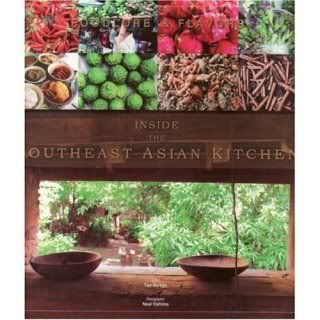 I love it!  More than a recipe book, it lets the reader have a closer look into the Southeast Asian kitchen – the must have ingredients, the favorite methods of cooking, the signature dishes, etcetera.   Oh and the photographs!  I drooled on page after page of beautifully photographed dishes!  The book's practically useless now.  Kidding again.  Hahaha!  Seriously, it was so tempting to just tear off the pages and munch on them.
I can't wait to try the recipes.  Where should I start?  Indonesia?  Brunei?  Thailand?  Vietnam?  Philippines?  Malaysia? Can you name name the rest of the countries?  Hee hee.
I love surprises that come via courier.  :D  Can a KitchenAid mixer be too far behind?   Wishful thinking.  Hint! Hint! ;)