This is in connection with my earlier entry (just two entries ago) and another one of Abby's bento lunches from October, thus, the witch hat pick.  The homemade skinless longanisa (Filipino-style sausage) I made for the first time was such a hit with Abby that the following day, three pieces made their way to her school lunch.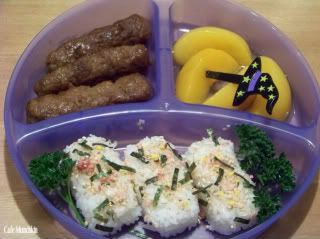 I love this stury food container.  Got it for $0.99 at Walmart.  It's microwave and dishwasher safe. ;)
I was afraid if I only packed plain rice in the food container, they would be left untouched.  So I sprinkled some ebi fumi furikake (Japanese rice seasoning with shrimp, sesame seed, potato starch, seaweed, sugar, salt and dried yolk powder.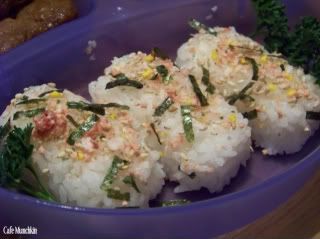 It was the first time I ever sprinkled furikake on cooked rice.  I may have oversprinkled the rice with the seasoning.  Personally, I like it.  I can actually eat just rice and furikake.  Hee hee.  As for Abby, she ate only one out of the three molded rice.  I say one is better than none.  The rest, Abby devoured.
I'm guilty of loosely packing the food container.  My problem is that some of the better known bento lunch fillers (like cherry tomatoes), Abby isn't too keen on eating.  But we're working on that.  I know, reasons, reasons, reasons! :)