Because perishable food don't come with a term life insurance you have no choice but to eat them right away or freeze them if they are freezeable.  Otherwise, they will just go to waste and that's something we don't want.  I froze some fresh strawberries a couple of days ago and had bananas (again!) which were on the verge of over ripening.  I thought it's about time I "recycled" them.
Strawberry banana smoothie would have been an easy option.  But I chose to take the route which will leave me with a lot to clean up…baking.  Since banana muffins make constant appearances in our kitchen, I thought it might be a good idea to give the bananas some company, the strawberries.  Strawberry banana muffins suddenly sounded like a good idea.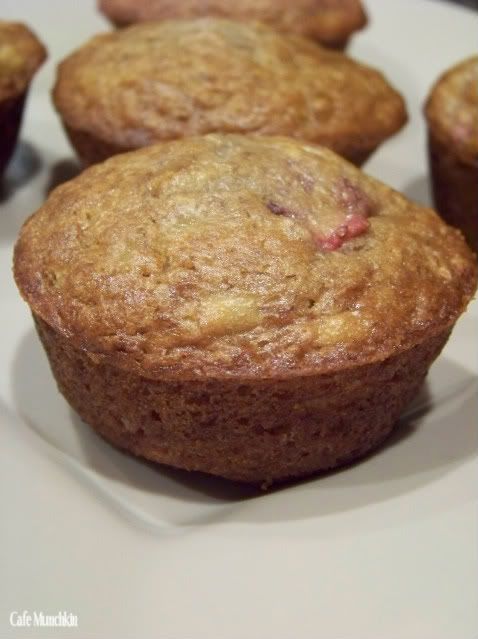 I used my usual Banana Muffin recipe and tweaked it a little by increasing the amount of milk to 1/2 cup instead of 1/4 plus the addition of 1 cup of sliced strawberries.  After sifting all the dry ingredients together, I dumped the strawberries in the flour mixture for coating.  I read that coating the strawberries (or other berries for that matter) in the flour mixture prevents them from sinking when poured into the muffin pans.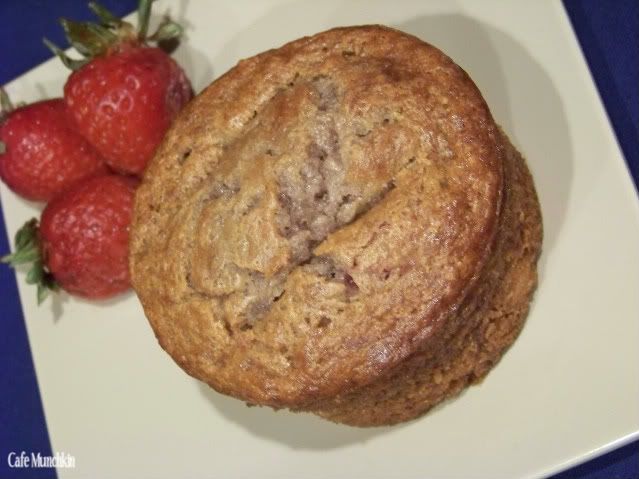 I used a ramekin for this giant muffin.
Because of the extra 1/4 cup of milk in the recipe and the semi-wet strawberries, I had batter enough for 14 muffins.  That's two muffins more than the regular-sized 12-cup muffin pan.  So after filling all 12 cups of the muffin pan, I poured the rest of the batter in a ramekin for one ginormous muffin, which I sliced into four so that they resembled mini banana bread slices…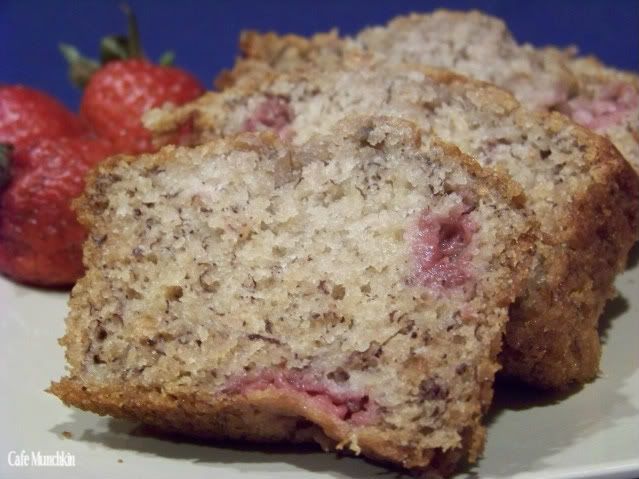 The muffins came out very moist, what with the extra milk. Next time, I will just stick to the 1/4 cup milk measure.  I really like the strawberry-banana combo.  It gave some kind of a new twist to an old favorite here at home. :)