Almost a month ago, Hubby, Abby and I had the chance to check out a mediterranean buffet place, Dimassi's.  It's been a while since Hubby and I had honest to goodness mediterranean fare.  Come to think of it, we never even got to try Meditteranean Cafe back home.  We thought it was about time we took a mediterranean food trip.
It was quite a learning experience for us – unfamiliar food names and unfamiliar tastes.  I wanted so much to try as much of the food as I possibly can so I have more to share with you.  But there's only so much food I can handle at a given time. Hee hee.
My first plate had the following…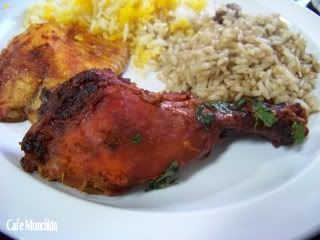 Tandoori Chicken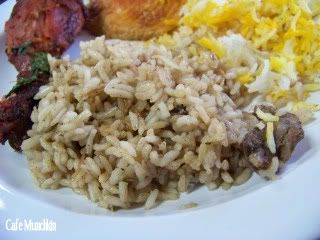 Makluba – rice, chicken, potatoes, corn, flower and eggplant with sprinkled nuts.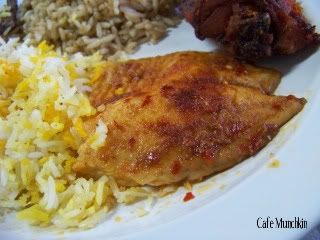 Biryani and Baked Tilapia
Biryani, according to Wikipedia "is from a family of primarily South Asian rice dishes made with spices, rice (usually basmati) and meat/vegetables.  The spices and condiments used in biryani may include but are not limited to: cloves, cardamom, cinnamon, bay leaves, coriander and mint leaves, apart from ghee, ginger, onions, garlic and yoghurt. The premium varieties include saffron."
The tilapia was baked in lemon, pepper, sauce, veggies and spices.
Before I move on to my second plate, let me just say that I didn't eat all the rice…just in case you're concerned that there was way too much carbs on my first plate.  Haha.

Grilled Chicken

Chicken Kabob – chicken marinated with oregano, green pepper, tomatoes, and onion and salt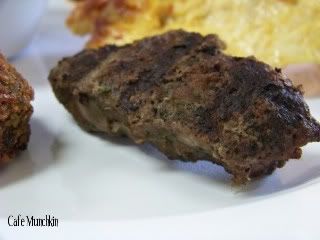 Kafta Kabob – a grilled mixture of ground beef, parsely, onion, garlic, pepper and salt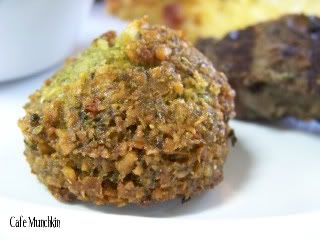 Falafel – a ball of chick peas,  parsley, cilantro,  onions, all spices.

Soft Pita Bread and Manquish (hard pita bread)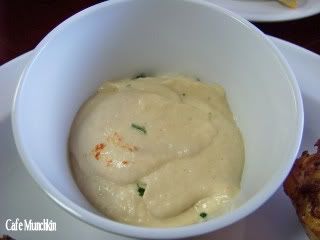 Hommus – roasted chick peas mixed with tahini suce, garlic, lemon juice, served with olive oil.
My daughter loved the soft pita and the Homuus!  I'm glad she's very open to new tastes.  I definitely have a future foodie in the person of my 4-year old daughter. ;)
For dessert, I especially loved the Rice Pudding…
It is made with rice, milk, rose water, orange water and pistacchio.  I tell you, it did taste flowery…like a mild perfume!  Haha!  This dessert didn't quite appeal to my husband.  But it scored major points from Abby and me. ;)
The rest of desserts were pastries, which were too sweet…

Semolina Cake (made with semlina flour, sugar and yogurt)

Baklava (made with filo, walnuts, sugar and flour)

Jam Cookie
We've been to enough buffet places here in Texas to know that when it comes to interiors and ambiance, we shouldn't set too high a standard.  That's not to say that buffet places here are just plain hideous.  They are just, well, lacking…in more ways than one.  Some exert a little more effort than the others though, to come up with a more pleasant dining environment.  It can't be said, however, that Dimassi's is one of those that exerted that extra effort.
Dimassi's dining area had a cafeteria-ish feel to it, what with the fluorescent lighting and the not so attractive chairs and tables.  It is easy to forgive restaurants for these little things if the food is good enough to make you forget.  And for a buffet price of $12.00 per head including drinks, one can't really complain about floor tiles, wall decors and furniture.  Oh, our 4-year old ate for free by the way!
If you tend to go for food that are visually appealing when choosing which food lands on your plate, then you probably won't be able to make the most out of your $12.  In fact, there were teen-aged kids who couldn't behave themselves and were making fun of the food and how they looked right there at the buffet line!  Food presentation just isn't one of Dimassi's stronger points.
Vegetarians will love Dimassi's because they offer quite a number of vegetarian dishes.
It may be a while before we go back to Dimassi's.  We simply don't crave meditteranean food as often as we do Asian food, Japanese most specially. :D
Dimassi's Mediterranean Buffet
12636 Research Blvd
Austin, Tx 78759
Tel: 512-258-0395