Hubby loves to eat but he doesn't cook.  In fact, before Abby and I joined him here in the US, he survived mostly on fastfood, micrwaveables and restaurant lunches and dinners.  Never did he ask how to cook rice or any Filipino food. But ever since I bought a tamagoyaki pan on E-bay, he's been in sort of a mission to cook a proper tamagoyaki.
Two Sundays ago, I woke up with breakfast already waiting for me and Abby already eating.  Hubbys made Abby a one-egg tamagoyaki and divided a 4-egg tamagoyaki mixture between the two of us…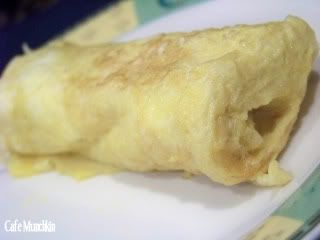 Both hubby and I still need work on our tamagoyakis.  As you can see, it doesn't look like the one you normally eat at a Japanese restaurants, which have very pronounced corners and rectangular in shape. But it tasted Japanesey.  Hee hee.
Being a kitchen novice, Hubby isn't so big on presentation.  So I played with my omelette a little…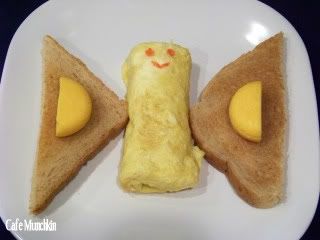 No diet pills necessary for a light and healthy breakfast of omellete, toast, cheese and a cup of freshly brewed coffee.
Here's the recipe that hubby used for his tamagoyaki:
Recipe for the 4-egg Tamagoyaki
4 eggs
1/4 ~ 1/3 cup dashi
1/4 teaspoon salt (small pinch)
Light soys auce and mirin : Optional and to taste
Recipe for 1-Egg Tamagoyaki
1 egg
1/4 teaspoon dashi
1~2 tablespoon water (this is to dilute the already thick dashi)