We were at the mall with friends last Saturday when we got a call from another one of our friends at around 1pm (Hi A!).  She informed us of an impromptu potluck get together for dinner for that evening.  My instinct told me to just buy  noodles from one of our favorite Chinese restaurants because being the rather OC person that I am, I need advance notice if I'm going to subject other people to my cooking.  Haha. As I am fickle-minded, too, I changed my mind after we got into our car and decided to just cook a simple viand and a simple dessert.
My viand of choice was arroz a la cubana (click here for the recipe) sans the fried bananas.  It's something very easy and I've cooked it so many times for my family that I can very well do it in my sleep.  For dessert, I chose to make egg custard pie (2 pies!).  My friend, Abby, made one a couple of weeks ago and I recall the recipe to be rather simple.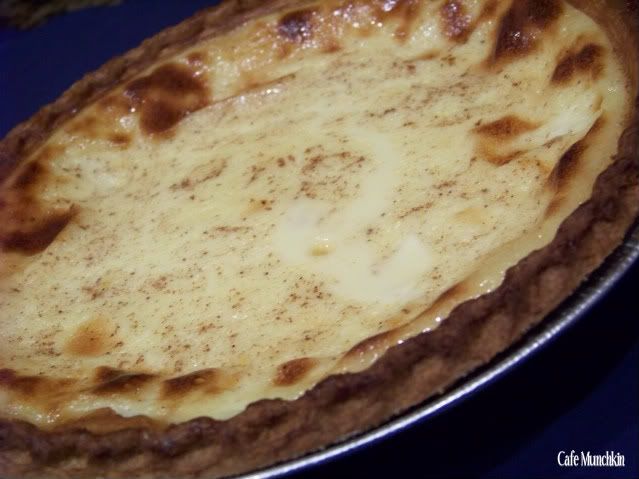 Judging from the photo, you can say that it wasn't the success I was hoping it would be, on the "looks" department, at least.  For the record, it was my first time to make pie.  I did cheat a little and used prepared frozen pie crusts.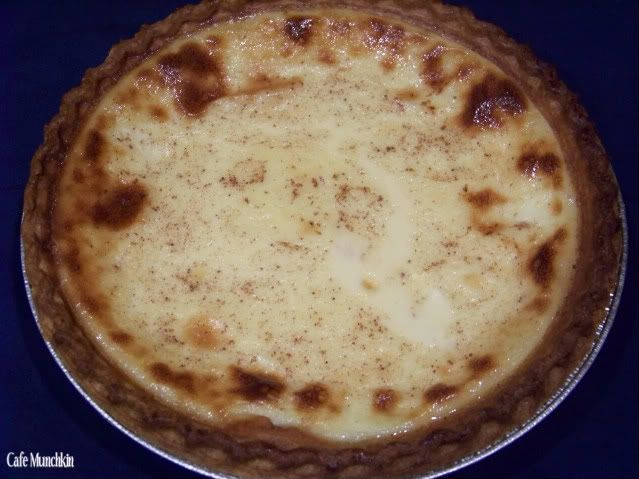 The recipe said to bake for 30 minutes or "until a knife inserted near center comes out clean".  It took forever for the darned knife to come out clean!  All in all, I think the pies were in the oven for close to 60 minutes.  I got nervous when I saw bubbles as if the custard was boiling.  At that point, I sent hubby to Walgreens to buy ice cream as replacement for the egg custard pies, which I no longer wanted to bring to the get together.
I finally decided to take the pies out of the oven and left them to cool on the kitchen counter while we headed out the door to meet our friends. The pies were still a little wobbly then.  When we got back several hours later, I was surprised to see the pies were already firm.  I sliced a piece and was surprised further that it didn't taste bad at all.  It isn't exactly the egg custard pie that I'm used to but it did give me the fix I was craving for.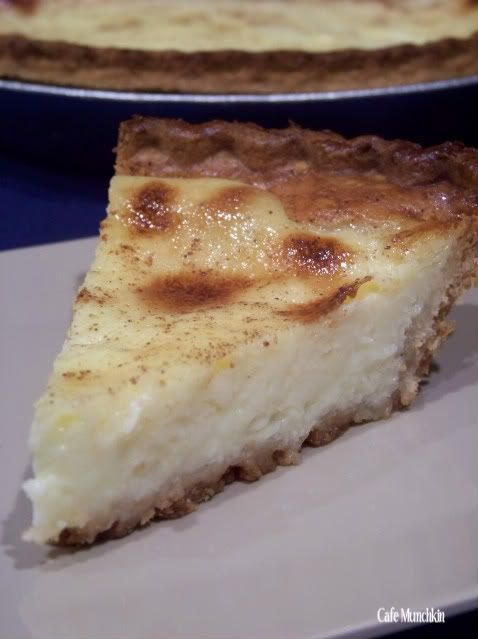 I'm not so good at tweaking recipes, specially for baked goodies.  But I think I could sprinkle more nutmeg next time and maybe add an egg or two more.  I will also take the pies out of the oven sooner and take a cue as well from the crust.
I got the recipe here.  (I'm posting the recipe here as well.) Looking at the photos that some who dared try the recipe submitted, I think my finished product doesn't look too bad.  Hee hee.
INGREDIENTS
1 (9 inch) unbaked pie crust
3 eggs, beaten
3/4 cup white sugar
1/4 teaspoon salt
1 teaspoon vanilla extract
1 egg white
2 1/2 cups scalded milk
1/4 teaspoon ground nutmeg
3 drops yellow food coloring (optional)
DIRECTIONS
1. Preheat oven to 400 degrees F (205 degrees C).
2. Mix together eggs, sugar, salt, and vanilla. Stir well. Blend in the scalded milk. For more yellow color, add few drops yellow food coloring.
3. Line pie pan with pastry, and brush inside bottom and sides of shell with egg white to help prevent a soggy crust. Pour custard mixture into piecrust. Sprinkle with nutmeg.
4. Bake for 30 to 35 minutes, or until a knife inserted near center comes out clean. Cool on rack.
Overall, the pie was not the nightmare I thought it would be.  My daughter liked it.  Hubby thought it tasted a little too "plain".  Hmp.  I found another egg custard pie recipe, which I hope to try soon.  I'm hoping it will taste closer to the egg pies I've been accustomed to having back home. :)