As promised just two posts down, I'm posting the recipe  for the Homemade Shrimp and Pork Siomai that I made the other day.  I got it from here.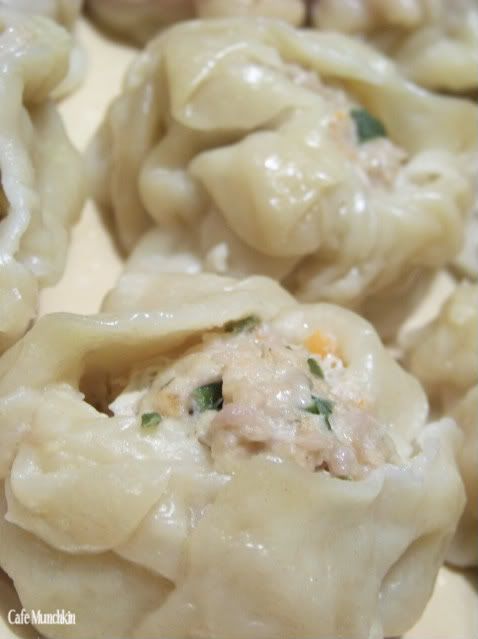 Making these siomai from scratch was another first for me, not counting the time we made dumplings for a soup (Molo Soup) during Home Economics class in high school.  The effort I exerted in making the wrappers was not left unrewarded.  Both Hubby and Abby complimented the wrappers, saying that they were good.  But I will probably buy ready made wrappers next time as making the wrappers ate up a huge chunk of my time!
The pork siomai I made are too big, probably twice if not thrice the size of a regular siomai.  Hee hee. Given the success of this siomai venture, it looks like I won't be buying frozen siomai again…at least, not anytime soon. :)
FILLING INGREDIENTS
1 lb ground pork
1 lb ground shrimp
1/3 cup chopped water chestnuts or turnips (singkamas)
1/3 cup chopped carrots
2 medium or 1 large minced onion(s)
bunch of spring onions or leeks
1 egg
5 tablespoons sesame oil
1 teaspoon freshly ground pepper
1 teaspoon salt
50 pcs. large or 100 pcs. small wanton or siomai wrapper
WRAPPER INGREDIENTS
1/4 cup water
1 egg
1 tablespoon vegetable or corn oil
1/4 teaspoon salt
1 1/2 cups all-purpose flour
1.  Mix all the ingredients for the filling in a bowl.
2.  Spoon 1 tablespoon of mixture into each wrapper. Fold and seal.
3.  Meanwhile, boil water and brush steamer with oil.
4.  When the water gets to a rolling boil, arrange the siomai in the steamer and let stand for 15-20 minutes, longer for larger pieces.
Serve with soy sauce, calamansi and sesame oil.
To make the wrapper:
1.  Beat egg and mix with flour till free of lumps.
2.  Bring water, cooking oil and salt to a boil, then pour in flour.
3.  Remove from heat and beat until mixture forms a ball.
4.  Divide the dough into 1 1/4 -inch balls.
5.  Roll each ball on a floured board until paper thin. Set aside.
***UPDATE***
I have another siomai recipe: TURKEY SIOMAI