It's no secret that I love to bake.  One thing I've always wanted was a Kitchen Aid mixer.  So on November 15, I took advantage of a door buster sale one store was having and snagged myself a 10-cup 4.5 quart Bowl Lift Kitchen Aid mixer.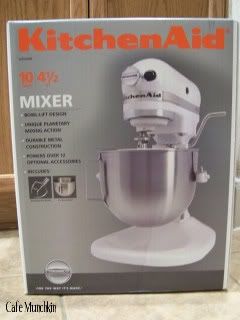 The original price for this baby is $279.99, or so they say.  On the day of the sale, it was being sold for $199.99 plus a rebate of $40.00, bringing down the price to $159.99.  To bring down the price even further, I applied for a credit card which was tantamount to a $15.00 discount.  The total discounted price of the mixer was now $145.00.  I thought that was a really good deal.
But then, I got to talk to my friend, Abby, who was an avid baker herself and realized that what I thought was a good deal wasn't such a good deal after all.  Abby's mixer is a 5-quart Lift Head Mixer and came with 3 attachments.  The one I bought only came with one lowly attachment.  I'd have to buy the beater and dough hook at $13.00 each to make full use of the mixer. Abby got hers for around $200 ($199 I think!).
After six days, I was back at the store with the mixer to have it returned.  It wasn't meant to be just yet.  That's probably why in that length of time the mixer was with me, it sat on the kitchen floor unopened.  I'm glad I returned it because yesterday, the very same mixer was sold at Walmart for $130.00!
There.  For 6 days, I was the proud owner of a Kitchen Aid mixer.  It was short but sweet. :)  I could have immediately bought another stand mixer at a very good deal but decided to hold off on doing so a while longer.  For now, I'll make do with my third hand mixer. :)