Last Wednesday, I caught Emeril Lagasse making Rich Chocolate Pecan Pie in Good Morning America.  It looked so easy that I decided to make two (ended up making four!) for Thanksgiving (the weekend started early because of Thanksgiving Day!).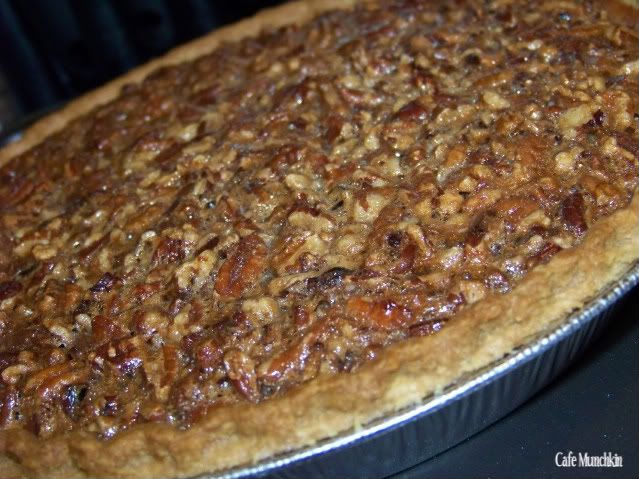 This pie is definitely not for someone who's watching his/her sugar intake!  It. Is. RICH!  It was supposed to have a caramel sauce and topped with confectioner's sugar.  But because I love my friends, I stopped at the pie and didn't make the sauce anymore. :)
The recipe is as follows:
INGREDIENTS:
1 1/2 cups pecans
1 cup semisweet chocolate chips
1 unbaked 9-inch pie shell
4 eggs, beaten
1/2 cup sugar
1/2 cup light brown sugar
1/2 cup corn syrup
1/2 teaspoon vanilla extract
Pinch of salt
Optional: Caramel Sauce, for garnish (recipe follows)
Confectioners' sugar, for garnish
DIRECTIONS:
1.  Preheat the oven to 375 degrees F.
2.  Spread the pecan pieces and the chocolate chips evenly on the bottom of the pie shell.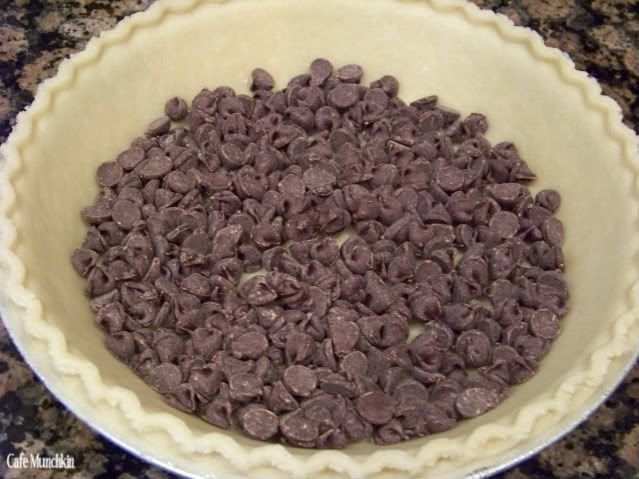 I spread the chocolate chips on the pie crust first…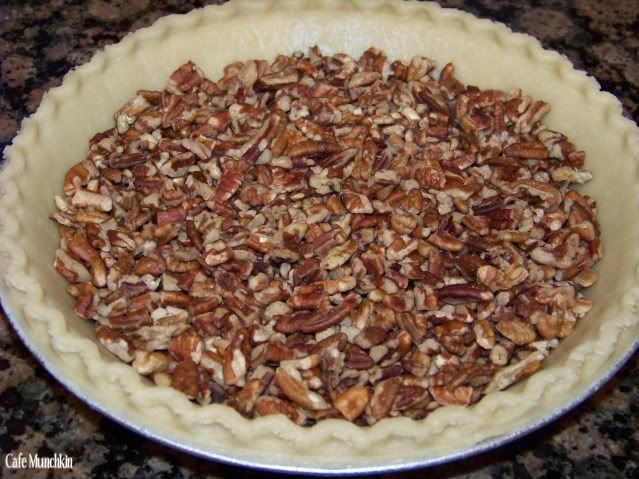 …then spread the pecan pieces on top of the chocolate chips.
(Note:  I made two versions for this pie.  This is actually the second version.  In the first version, the pecan pieces were at the bottom and the chocolate chips were on top.  You'll see the difference at the end of this post.)
3.  In a mixing bowl, whisk the remaining ingredients together.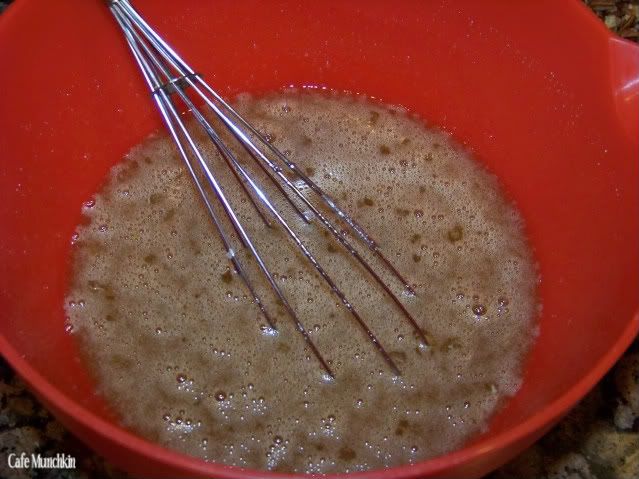 4.  Pour the filling over the pecans.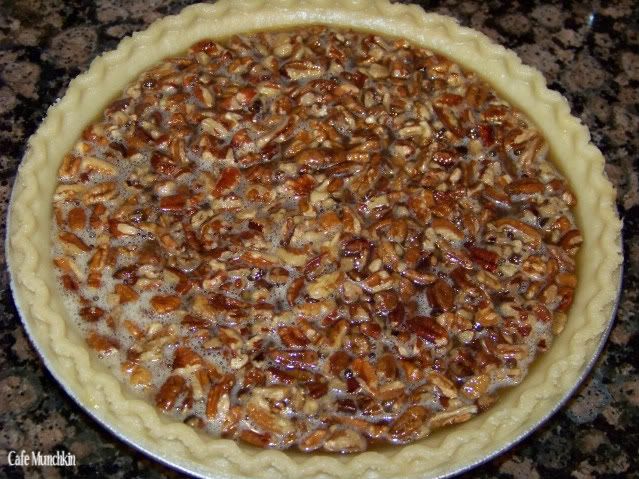 5.  Bake until the filling sets, 50 to 60 minutes. Remove from the oven and cool for 30 minutes before slicing.
I followed the recipe to a T and for my first two pies where the chocolate chips were on top, this is how it came out…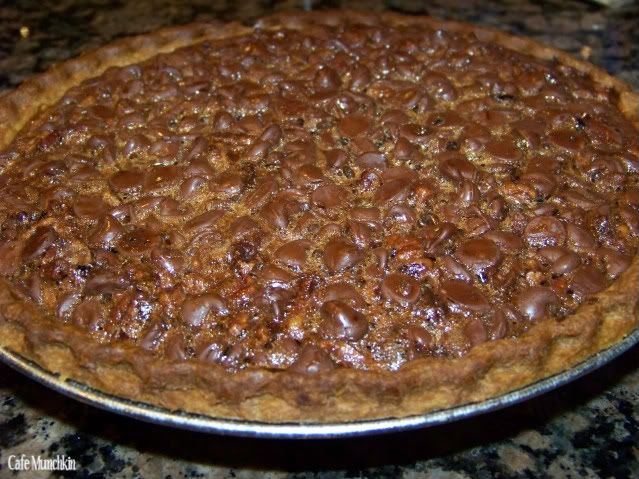 When I popped the pie in the oven, I simply set the timer to 50 minutes and decided to busy myself with something else.  You can just imagine my horror when the timer sounded and I found the pie looking like this.  You'll notice that the chocolate chips didn't quite melt and the crust is too "toasted".  That's what I got for following the recipe blindly.  But in fairness, it tasted quite good.  The toastiness of the crust can be easily ignored.
On Thanksgiving morning, I took on the chocolate pecan pie challenge yet again.  This time, I was more vigilant with the baking time.  This is the finished product…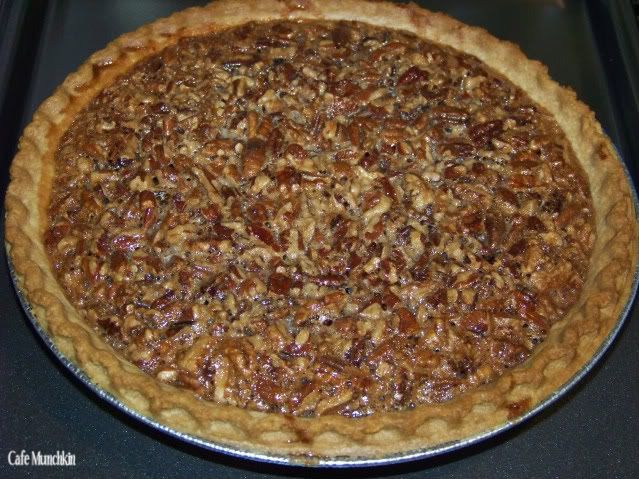 I prefer this over the first one.  I initially baked the pie at 350 degrees F for 20 minutes.  Then, I reduced the temperature to 250 degrees F and continued to bake the pie for 60 minutes.  I got this idea from an egg pie recipe, which I also made on Thanksgiving Day. :)
I got a little scared that the second version didn't quite set because when I stuck a toothpick in the pie, it didn't come out clean.  What did I expect?  The chocolate melted!  It did set but it was after a couple of hours.  It helps, too, to cool it in the fridge.  That way, you'll have a nice solid pie to slice and serve on a plate.  So you'll have to do this well ahead of time if you intend to serve it to guests. What you can do, if you want a nice warm pie is to pop the slice of pie in the microwave for 10-15 seconds.  That's exactly what I did…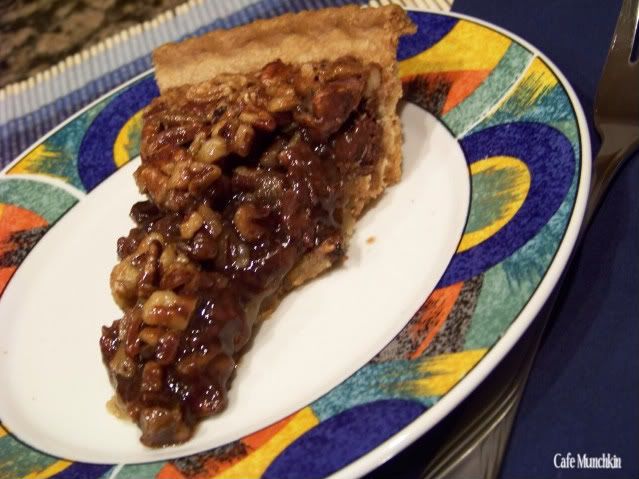 Rich and warm chocolate pecan pie.  Yum!  I say it looks good enough that you'll want to draw your bamboo shades so your neighbors can see what you just made. Hee hee. And you know, what?  You can serve it a la mode, too!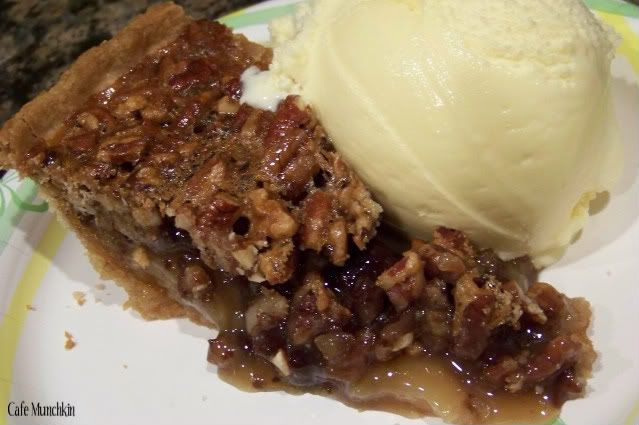 You must think I'm queer for not wanting to drizzle caramel sauce on my pie yet I recommend serving it with a scoop of vanilla ice cream.  Hee hee.  Oh well.  Life is full of contradictions.
I had friends over earlier tonight and served this pie a la mode.  They seemed to genuinely like it!  Either that or they're just being polite.  I say it's the former.  Hee hee.
Have a great week ahead!
PS. If you prefer caramel sauce, here's the recipe:
Caramel Sauce:
3/4 cup sugar
2 tablespoons water
1/2 teaspoon fresh lemon juice
1/2 cup heavy cream
2 tablespoons to 1/4 cup whole milk
Combine the sugar, water, and lemon juice in a medium heavy saucepan and cook over medium-high heat, stirring, until the sugar dissolves. Let boil without stirring until the mixture becomes a deep amber color, 2 to 3 minutes, watching closely so it doesn't burn. Add the cream (be careful; it will bubble up), whisk to combine, and remove from the heat.
Add 2 tablespoons of the milk, then add up to 2 more tablespoons, until the desired consistency is reached. Let cool until just warm before serving. (The sauce will thicken as it cools.)