A few weeks ago, I made egg custard pie that didn't quite float my pie boat. (Oh looky, I made a rhyme! Haha!) Hubby thought that particular pie tasted too "eggy". Hmp!  I had to agree though.  It was like a sweet omelette on a pie shell.  But I wasn't about to be discouraged.  So I went on a little quest for an egg pie recipe, one that was close to the egg pie I was accustomed to gobbling as a child.  If egg pies have become an obssession, it's because I have very fond egg pie memories.  You see, when I was little, my late maternal grandfather, brought home the perfect egg pies at least once a month (that was everytime he collected his pension!).  Those egg pies were soft yet firm, not overly sweet, deliciously yellow and pure melt-in-your-mouth goodness.  Those pies had a top layer that was golden brown.
In my search for the egg pie recipe of my youth, it was photos of the finished product that I looked at first.  It had to have that golden top layer.  And I mean the entire surface of the pie has to be golden brown!  I'm happy to tell you that I had a eureka moment when I landed on this site.  It was exactly the egg pie I was looking for!  It looked like it, at least!  Forget pumpkin pies!  Last Thanksgiving, I had egg pies and chocolate pecan pies!
I haven't mustered the confidence to make my own pie shell/crust just yet.  For my egg pies, I used frozen pie shells yet again. *wink*
INGREDIENTS:
1 pie shell
2 1/3 cups milk
4 eggs – separated
100 gm [1/2 cup] caster sugar (superfine)
1 1/2 Tbsp cornflour (cornstarch)
Note:  I added about 1/4 cup of regular sugar (maybe more!) to the original recipe.  I know I should be wary about tasting mixtures with fresh eggs in them, and you should be, too!  But if I hadn't tasted the mixture, I would have ended up with a pie that didn't quite reach my preferred level of sweetness. *wink*
PROCEDURE:
1. Preheat the oven to 350F (180C).
2. In a bowl, mix the flour, sugar, and egg yolks.
3. Stir in the milk into the mixture.
4. Whip the egg whites to soft peaks.

Then fold into the milk/egg yolk mixture.
5. Pour the filling in the pie shell and bake for 20 minutes until the top is brown.

7. Bring down oven temperature to 250F (110C) and bake for a further 1 hour until the custard is just set. The center should be a little wobbly.

8. Remove from oven and cool completely.
This is how the pie looks on the inside…
I made this on the morning of Thanksgiving and served it during Thanksgiving dinner.  The pies had ample time to set, which is key.  Otherwise, you'll have pie that's soupy and falling all over the place! The pie top could be a little browner, I guess.  But I've made quite a few toasty pies already that for this one, I settled for a golden brown crust and top layer.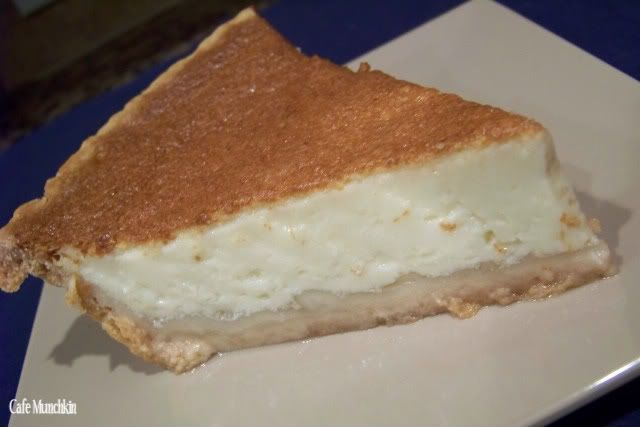 Unlike in the previous pies I made, I kept a close watch on this one.  While I was waiting for the top to turn brown, I initially set the timer to 10  minutes, then 5 minutes and then another 5 minutes, until it reached the shade of brown I wanted.
I'm toying with the idea of doing away with the caster sugar and using purely sugar the next time I make this egg pie.  I'm thinking a few drops of vanilla might give it an extra umph.  Do you think the pie's a little anemic looking?  Maybe a few drops of yellow food coloring might be necessary…although I may hold off on that.
PS:  Please excuse the poorly lit photos.  I realize they look like they were taken under home theater lighting.