This is a long overdue post.  Hubby celebrated his birthday two weeks ago and for his birthday lunch, we gave Mimi's Cafe, a restaurant we've always been curious about, a try.
My daughter fondly calls my mom, Mimi, which led her to think that Mimi's cafe is owned by my mom.  We wish!  Haha!  Because it was hubby's birthday, we wanted so much for the food to be good.  So you can say we had very high hopes.
When we stepped into the restaurant, the more hopeful we became.  It was love at first sight.  I particularly liked one section, which looked like a scene right out of Europe.  Unfortunately, that wasn't the area where we were seated.  Oh well.
For starters, hubby had Caesar Salad.  The greens were crispy and fresh.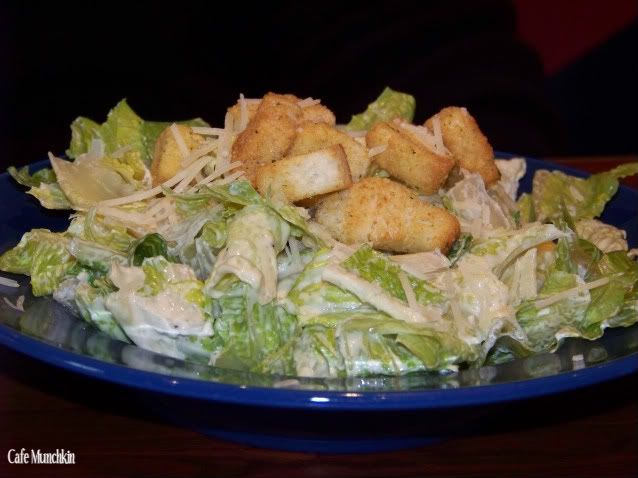 I, on the other hand, chose to have soup instead of salad…
The Cream of Chicken was creamy as creamy can be!  I could have had another cup!  Abby gave it a taste too and said with a nod, "It's yummy."
Abby picked the Mini Corn Dogs from the Kids Menu and had a side of mashed potatoes…
The corn dogs must have been really good because Abby ate every single one of them.  It's very rarely that Abby finishes all her food.
Hubby and I each had two kinds of bread, which came with our order.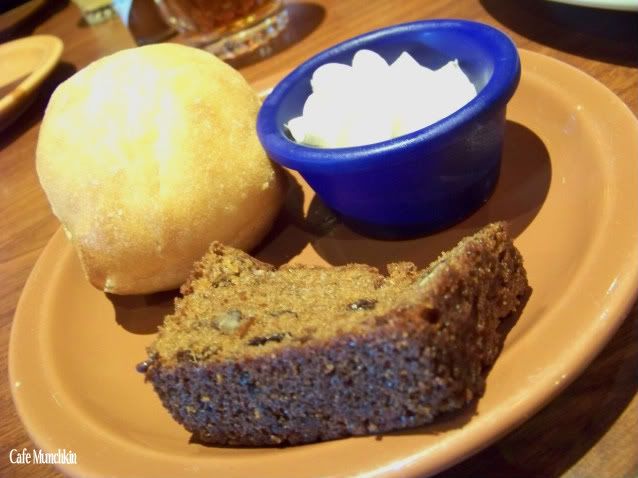 The roll was hard. I am almost sure you'll get a bump on your head if it somehow landed on you.  But I do understand some people like hard rolls.  I'm not one of those people.  The carrot raisin bread, on the other hand, I liked very much!  I was tempted to barter with the birthday boy, you know, my hard roll in exchange for his carrot raisin bread.  Hee hee.
Hubby's main course was a petite portion of the Oven Fresh Pot Roast and Gravy…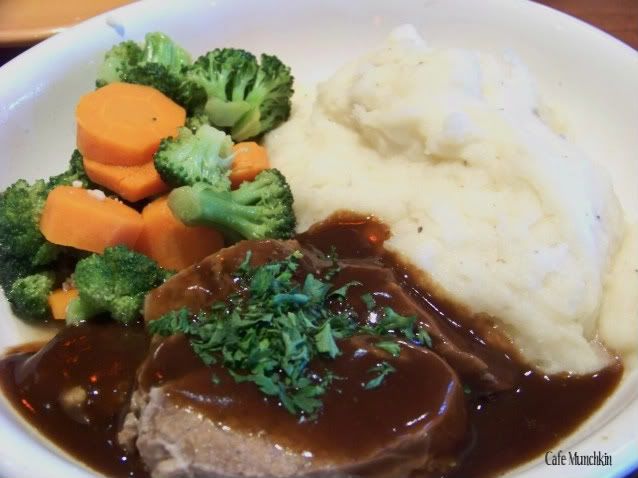 It's a slowly braised chuck roast, served with a side of mashed potatoes ans and fresh vegetables.  It was tender home-cooked goodness, earning the approval of my carnivore of a husband.  It was a petite portion but it was, nevertheless, filling.  Hubby was sure he wouldn't have been able to finish a full portion.  Although I doubt that. *wink*
I had Seafood Fettuccine…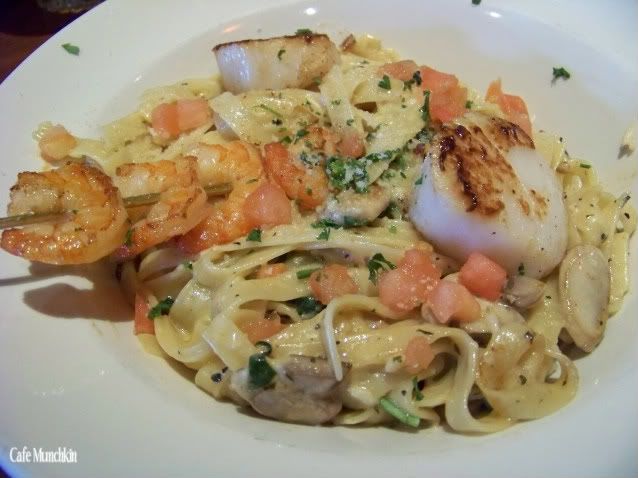 Listen to Read this, it is fettuccine tossed with crab meat, mushrooms, spinach and asiago cream sauce and topped with jumbo seared scallops, a garlic shrimp skewer and diced tomatoes.  Oohlala!  I love love white sauce with my pasta.  This was pasta heaven for me!  It was so good I almost didn't want to share it with my two dining companions.  Hee hee.
Abby's meal came with a dessert, a cup of dirt (crushed Oreo cookies) with two gummi worms buried in it…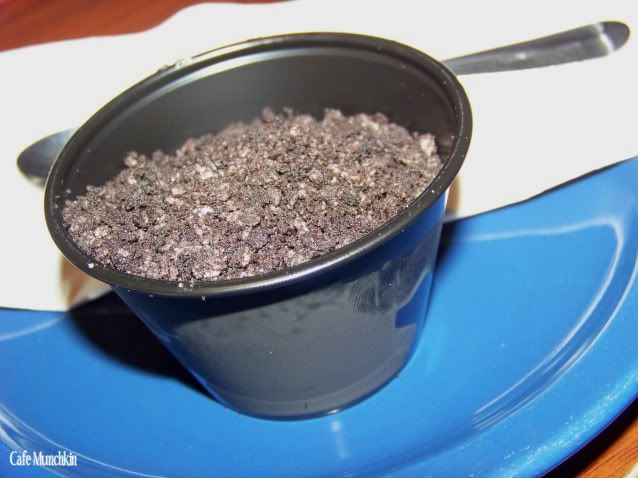 Well, my daughter enjoyed this dessert.  Good thing I had wet wipes with me!
As a birthday present from Mimi's Cafe, Hubby had a free slice of chocolate mousse.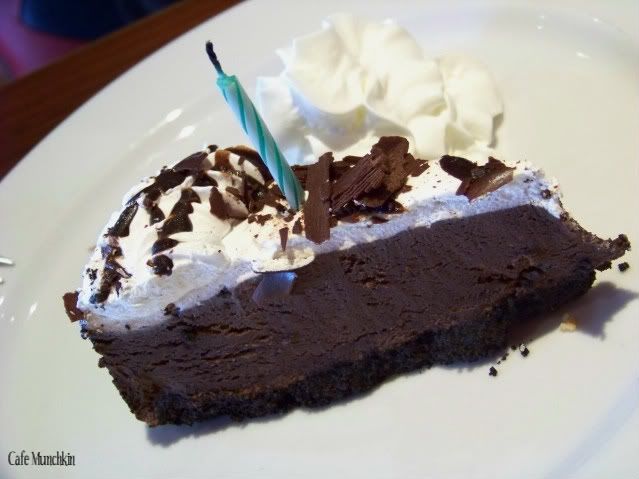 We didn't know he was going to be gifted with one.  It arrived together with the dessert we ordered, Mimi's Mousse Ensemble…
It is petite portions of chocolate, lemon and raspberry mousse, each with a special topping: blueberries and strawberry puree for the lemon mousse, fresh strawberries and strawberry puree for the chocolate mousse, and good 'ol dependable whipped cream for the raspberry mousse.  The raspberry mousse was my instant favorite, followed by the chocolate mousse.  The lemon mousse was too sour for us, but Hubby and I wiped the cup clean just the same.  All three were melt-in-your-mouth goodness!  Goodness! :)
I have to say, Mimi's Cafe was an instant favorite.  I can't wait to go back one of these days. :D
Mimi's Cafe
10515 N. Mopac Expy., NB Building O
Austin, TX 78759
Tel: (512) 241-0309