Because of a huge blunder on my part (terrible terrible mistake!), we found ourselves in Downtown Austin last Friday night.  One good thing that came out of it is that we had the chance to have an impromptu drive/tour around the University of Texas (UT) Campus (one fine looking University even at night!) while we were looking for a place to eat.  We ended up at Kerbey Lane Cafe.
Hubby had what's called the "A Really Good Burger" with bacon and cheese,  a lean 1/3 lb of all natural ground beef with lettuce, tomato and purple onion and a side of  home fries.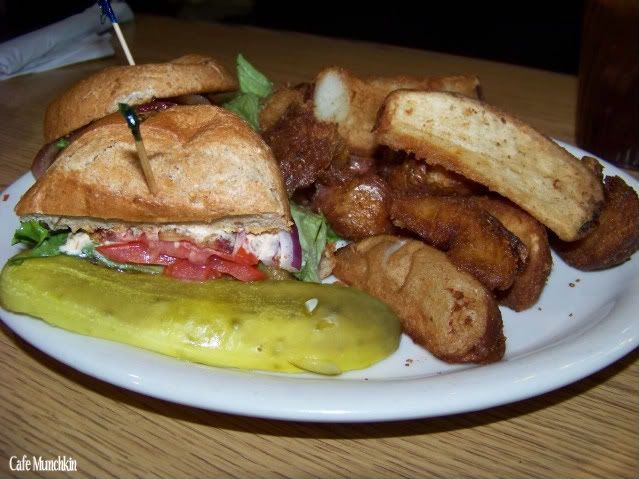 Truth be told, the burger was a little too bland for our taste.  It was juicy, all right, but we've definitely had better burgers.  The home fries are humongous!  They are about the size of half a banana!
I had the Portobello Sandwich.  It is grilled portobello mushroom and Kerbey Lane's homemade basil pecan pesto, tomato and mozzarella served on sourdough toast.  I had a side of garlic mashed potatoes to go with it.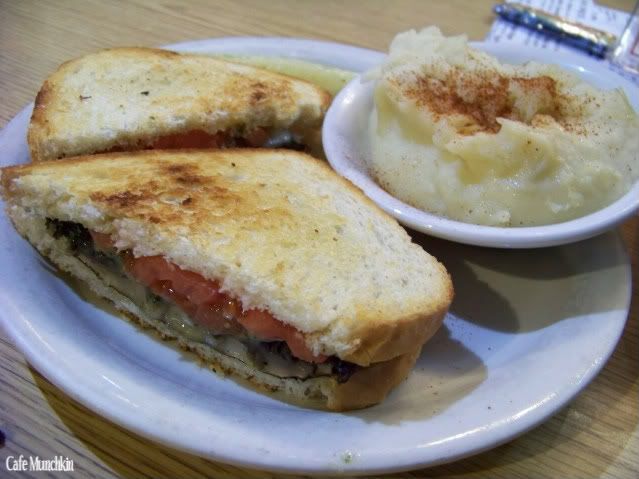 Check out the size of the mushroom…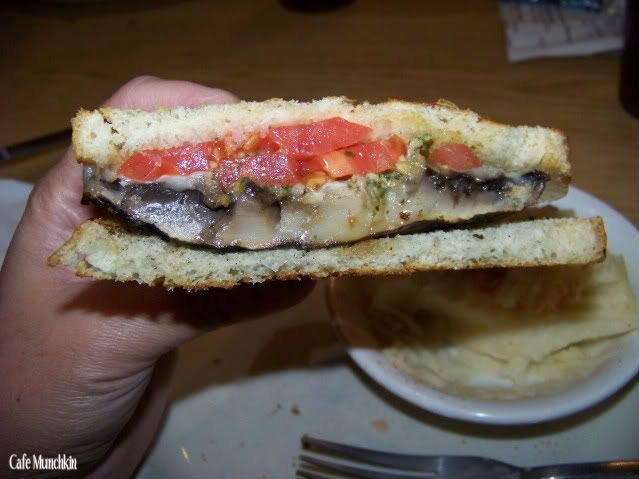 I loved the sandwich except that I found it a little hard to bite into.  I liked that the toasts are crunchy but I felt them scratching against my hard palate.  Not a very pleasant feeling.
My daughter only wanted pancakes but I took the liberty of ordering the Mini Cheese Omelet and Buttermilk Pancake for her.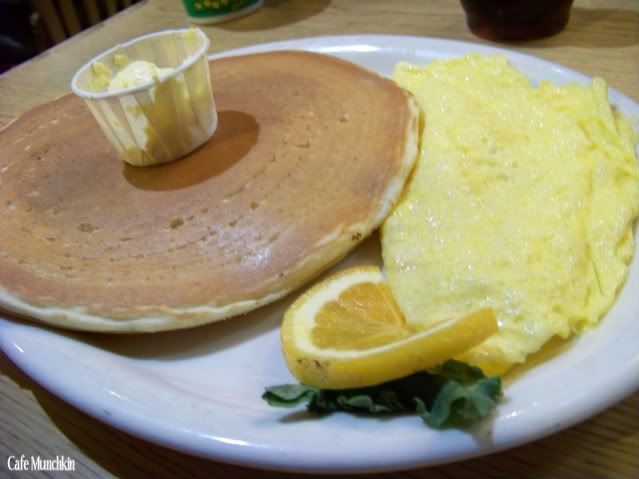 Abby enjoyed her food immensely.  It is very seldom that she eats without Hubby or I breathing down her neck and reminding her to take another bite or another spoonful.  She ate about a third of the huge pancake and was through with the omelet in record time.  Hubby and I shared what's left of Abby's pancake and it was really good!  One can enjoy it without syrup.  I should have bought a pack of the pancake mix ($5.75 per 1 lb pack)!
Located at The Drag, the busy section of Guadalupe St. that runs along the western edge of the University of Texas, the cafe is easily a haven for the entire UT population and accidental tourists like us.
Kerbey Lane has a very extensive menu and we hope to be back to try some more of their food, perhaps at a location closer to our home.
Kerbey Lane Cafe – UT
2606 Guadalupe St.
Austin, Texas 78705
Phone: 512.477.5717
Hours:24 Hours a Day/ 7 Days a Week
My other WW entry: Shooting for the Moon