Are you just about done planning your menu for Christmas?  If not, might I suggest a favorite dish of mine?  Please do consider Callos as a main dish in one of your holiday buffets.
Callos has been one of my favorite dishes for as long as I can remember.  My brother and I are blessed in that at an early age, our parents already exposed us to international tastes and Spanish cuisine happens to be one of them.  The old Minggoy's and Alba at Polaris St. in Makati were our favorite Spanish restaurants.
An overly simplified callos always makes its way to  our dining table here at home.  It is but a dish with ox tripe, potatoes, carrots, olives, garlic, onions and tomato sauce.  Our "everyday callos" looks like this…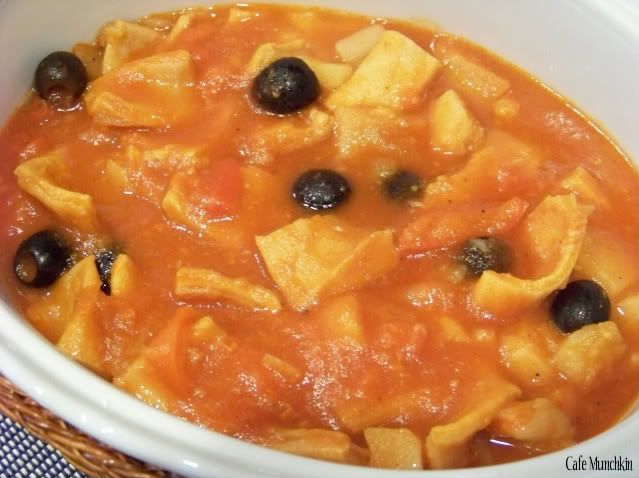 See, I didn't even care to slice the olives.  Hee hee.
My husband has been wishing for a proper  "the works callos", one with chorizo slices and ox tail or leg. I finally granted his wish  last Thanksgiving.  And boy was he a happy camper!  That's the callos recipe that I wish to share with you today.  It's one that is truly worthy of holiday feasting. Promise.  The recipe isn't my own.  I searched the internet for a recipe and I landed here, which didn't really come as a surprise, the site owner, Ms. Connie Veneracion, being one of the respected Filipino food bloggers in the blogosphere.
Here's my "the works callos"…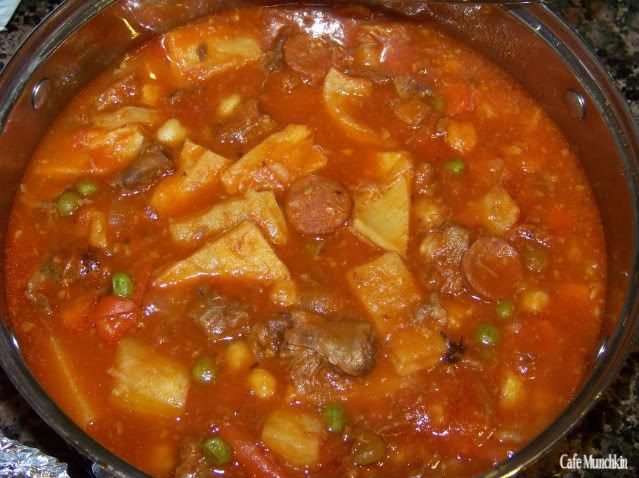 See the difference between my "everyday callos" and my "the works callos"?  Without further ado, here's the recipe:
INGREDIENTS:
2.2 lbs (1 k.) ox tripe
2.2 lbs (1 k.) ox tail (or leg)
1 – 2 pcs. chorizo
1 whole garlic
1 whole onion
5 – 10 pcs. peppercorn
1 bay leaf
1 whole garlic, minced
2 onions, diced
2 tomatoes, diced
1 carrot
1 c. of cooked chicken peas (garbanzos) peeled
3/4 c. frozen peas
3-4 potatoes
2 bell peppers, julienned
1/2 c. tomato paste
2 pcs of chili pepper
3 tbsp. olive oil
2 c. beef stock
salt
freshly cracked black pepper
1/2 tsp. finely chopped fresh basil (may be substitued with dry variety)
1/2 tsp. finely chopped rosemary (may be substitued with dry variety)
12 pcs. pitted olives (optional)
PROCEDURE:
1.  Wash the ox tripe and leg (if using leg – I used ox tail).  Remove all the visible fat from tripe; scrape tail/leg with a sharp knife.  Place them in a alrge pot or casserole and cover with water.  Add whole garlic, onion, peppercorns and bay leaf.  Bring to a boil and remove scum as it rises.  cover and simmer until tender (my ox tripe and ox tail took 3 hours of boiling).
2.  Transfer the cooked meat to a plate and cool.  Strain the stock.  Measure 2 cups; reserve remainder for later use.  Cut the tripe and leg meat into 1/2′ by 2′ strips.
3.  Peel the potatoes and carrots.  Cut into 3/4″ x 3/4″ cubes. Cut the chorizo (de bilbao) into very thin round slices.
4.  Heat the olive oil in a large casserole.  over medium-high heat, saute the garlic, chili peppers and onions until fragrant (about 45 seconds).  Add bell peppers and tomatoes and cook for another 45 seconds.  Add chorizo slices and cook until they start rendering color.  Increase heat to high and add the tripe and leg/tail strips.  Cook, stirring, for about 2 minutes.  Add the tomato paste, beef broth, carrots, chick peas and potatoes.  Season with salt and pepper.  Bring to a boil, cover and simmer another 3 minutes.  Serve hot with pitted olives on the side.  You may also choose to add the olives to the stew at the same time as the sweet peas.
Don't be intimidated by the long list of ingredients.  It's the boiling of the meat which will take up most of your cooking time.  But once the meat is tender and when your ingredients are already prepared and lined up one after the other, it won't take you very long to finish cooking the dish.
We had a hard time looking for chorizo de bilbao or just plain chorizo, which is what we ended up with in the end.  I sent Hubby out of the house twice on Thanksgiving morning to search for that one missing ingredient.  He found it at Whole Foods, thank goodness!
We looooved this callos and Hubby coudln't stop thanking me for cooking it.  That's extra shopping points for me.  Hee hee. ;)